Homemade gifts can be so meaningful and are perfect for that hard to buy for family member that seems to have everything. These jars make a thoughtful, pretty gift, especially with the addition of a festive ribbon.

Raspberry Chia Jam Jar
Super easy with only 3 steps and one pot to wash up, even the little ones can get creating. For this recipe, I have chosen to use raspberries as they are my favourite, but feel free to use any of your favourite berries (or even an assortment). Delicious spread on seeded toast with nut butter, dolloped on your yogurt and granola, on top of ice-cream or even just straight from the jar with a spoon. The addition of lemon zest and cinnamon give this jar of ruby red goodness a festive touch that is oh so enchanting. Decorate the jar with ribbon and give to family and friends this Christmas for the perfect handmade gift.
The star ingredients
Chia seeds are full off all the good stuff such as fibre, omega 3 fatty acids, mineral and plant bases protein. Naturally gelatinous chia seeds are perfect for the job, not only giving your jam a nutritional boost but vital to set the jam and give it just the right texture and consistency.
Prep Time: 5 minutes
Cook Time: 5 minutes
Makes: approx. 2 cups
Ingredients
2 cups raspberries
2 TB maple syrup
1 tsp lemon juice
½ tsp lemon zest
½ tsp cinnamon
2 TB chia seeds
Preparation
1. In a small pot combine frozen raspberries, maple syrup, lemon juice and zest and cinnamon. Bring to a gentle simmer stirring continuously until the raspberries are broken down
2. Turn off the heat and add in chia seeds. Keep stirring for 5 minutes until chia seeds begin to absorb liquid and become plump
3. Let cool and transfer to a clean jar. Store in the fridge and use within 10 days.

Gingerbread Cookie Gift Jar
One thing that definitely screams Christmas is gingerbread. Gingerbread always brings back nostalgic memories of my childhood baking Christmas cookies with my grandma, as I'm sure many of us did. This year I wanted to be a bit more mindful with my gifting so why not bring back those happy Christmas memories to my friends and family by gifting them a 'ready to make' healthier Gingerbread cookie jar. With this crazy time of year and busy schedules this gift is so easy to prepare and even easier to make, using unrefined ingredients such as wholemeal spelt flour and coconut sugar. When you are ready to make your cookies, simply add a few extra ingredients, choose your favourite festive cookie cutter and get baking. A great holiday activity for the kids to get creative in the kitchen and make homemade Christmas gifts
Cookie Jar Prep Time: 10 minutes
Recipe Prep Time: 10 minutes + 20 minutes for the dough to rest
Cook Time: 15 minutes
Makes: approx. 30 cookies
Ingredients for gift jar
3 cups wholemeal spelt flour
1 ½ cups coconut sugar
½ cup corn starch
1 tsp baking powder
2 tsp ground ginger
1 ½ tsp ground cinnamon
1 tsp ground nutmeg
¼ tsp ground cloves
¼ tsp sea salt
Crating gift jar:
1. Mix together flour, corn starch and baking powder in a bowl
2. In a clean, large 1-litre jar, layer in dry ingredients one at a time to create layers
3. Close jar tightly, decorate with ribbon and attach instructions below to your cookie jar, with a pretty ribbon.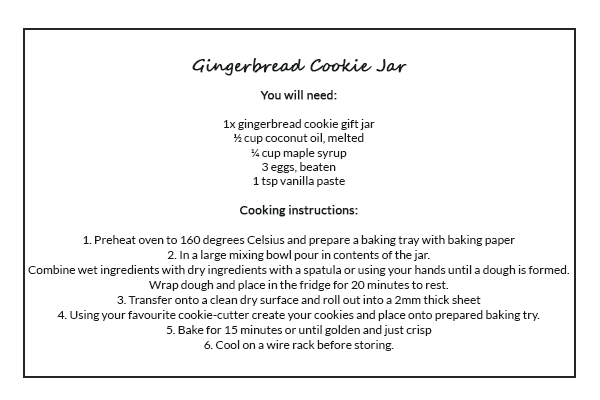 Spiced Nuts Gift Jar
Perfect for the grazer in your family. Not only are these a great gift but also a great snack to keep you going during the silly season. These honey spiced nuts are decadent, a little bit sweet and sticky, a little bit salty, a little bit spicy and definitely crunchy. Cinnamon, nutmeg and ginger give this recipe a subtle nod at Christmas spice. The perfect addition to Christmas day grazing platters or under the tree in a pretty jar for a thoughtful gift.
Prep Time: 5 minutes
Cook Time: 15-20 minutes
Makes 3 cups
Ingredients
1 cup macadamia
1 cup pecans
½ cup almonds
½ cup walnuts
2 TB honey
1 TB coconut oil
1 tsp vanilla paste
½ tsp cinnamon
½ tsp nutmeg
½ tsp ginger
½ tsp sea salt
Preparation
1. Preheat oven to 150 degrees and line a baking tray with baking paper
2. In a bowl combine all ingredients and mix well until nuts are fully coated
3. Transfer nuts onto prepared baking tray in and even single layer
4. Place into oven, keep your eye on them and bake for 15-20 minutes
5. Let cool completely before transferring to a clean jar. Decorate the jar with ribbon and tag and pop under the Christmas tree.
Made any of these recipes? Share your photos with us on Instagram @HealthPostNZ or on our Facebook page.