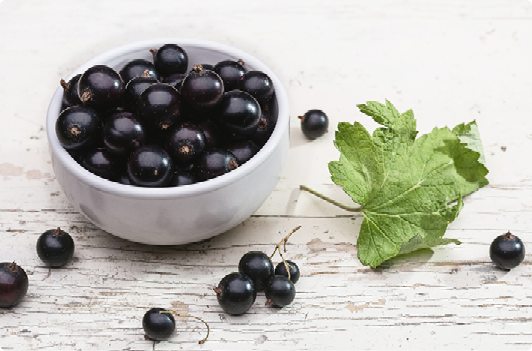 A fantastic source of vitamin C and potent antioxidants, black currants can help to support your immune system and offers great support against free radical damage.
The dark purple colour of black currants is thanks to the presence of anthocyanins, a type of flavonoid with antioxidant and supportive effects for many areas of health and wellbeing.
Black currants are well known for their supportive qualities to eye health. For those of us who spend their days in front of a screen, black currant is said to offer support for tired eyes and increase the blood flow to deliver the nutrients necessary for healthy eyes. As we age antioxidants offer support to improve the aging process by combatting the destructive effects of free radicals on our bodies. Free radicals are produced as a by-product of many cellular processes within the body and as a result of external environmental toxins we are exposed to on a daily basis.
Muscle recovery after exercise:
Clinical trials have suggested that there is a close link between black currant intake and healthy performance and recovery for athletes. Best taken before and after exercise, black currants support recovery from exercise and healthy cardiovascular response, and healthy energy levels post exercise.
The quantity of anthocyanins contained within black currants is particularly high when compared to many other antioxidant rich fruits. New Zealand grown black currants have been shown to be higher in these nutrients than black currants grown in other parts of the world. Black currants contain a high amount of Vitamin C. It has been suggested that it is up to 4 times the amount contained in oranges. Vitamin C is a potent anti-oxidant in its own right and has been commonly used for support for immune defences and for seasonal ills and chills.
The main active properties contained within black currants are:
Anthocyanins
Polyphenols
Antioxidants
Vitamin C
Gamma-linolenic acid (GLA) – an essential fatty acid
There are many ways to consume black currants. The fruit can be dried, freeze dried and made into capsules, powdered and taken in liquid form too. There is a form of black currant for a variety of tastes and preferences.