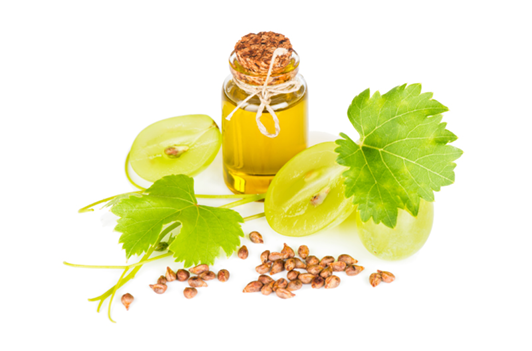 It is also known to support the integrity of blood vessels and overall cardiovascular health, and is a popular choice in skincare due to its ability to support skin firmness and ageing.
Significant quantities of vitamin E, vitamin A and vitamin C, which are important antioxidants, are found in grape seeds. Protective antioxidant phytonutrients and beneficial plant nutrients are also highly concentrated in the seeds.
The main phytonutrients found in grape seed include:
Oligomeric proanthocyanidins (OPCs)
Polyphenols (catechins, epicatechin and epigallocatechin and resveratrol)
Phytosterols (β-sitosterol)
Organic acids (citric, gallic, epigallic, chlorogenic, vanillic, sinapic and malic acids).
The most studied of these polyphenols are oligomeric proanthocyanidins (OPCs for short) and resveratrol. These star components support the body's ability to neutralise the harmful effects of free radicals in tissues and organs.
Support for healthy blood vessels:
Grape seed extract is a popular supplement taken to maintain healthy blood vessels, including veins, arteries and capillaries. It supports blood flow and circulation, particularly to peripheral areas of the body.
Grape seed helps provide phytonutrients to support healthy circulation and blood supply of oxygen and nutrients to the brain. Proanthocyanidins readily cross the blood-brain barrier to help protect vital neural cells from oxidative damage and maintain healthy and brain function.
The protective plant nutrients found in this amazing seed can help support the body's response to oxidative damage related to UV and blue light exposure. The supportive effects for capillary health help ensure healthy blood flow the eye. Grape seed extract also helps maintain healthy neural and nerve health for the cells in the optic nerve.
The antioxidants in grape seed extract help to support positive ageing and protection from the damaging effects of oxidation on skin cells, including cellular damage caused by the harsh UV rays of the sun. Grape seed extract helps maintain healthy collagen and elastin levels in the skin matrix and encourages the healthy regeneration of skin cells to support healthy ageing and skin firmness.
Grape seed oil for skin care:
High levels of vitamin C, vitamin E, vitamin A, plant sterols and fatty acids including linolenic acid make the oil extracted from the seed very valuable and popular as a topical application. It is widely used as a base for natural skin care and is non comedogenic, which means it does not clog pores.