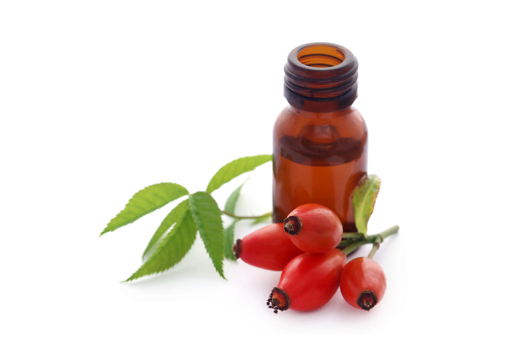 Both rosehip oil and the dried fruit powder are used in natural health supplements and skin care products to support positive ageing and supply the body with natural plant derived antioxidants and essential fatty acids.
Rosehip is rich in antioxidant nutrients including vitamin C, beta-carotene, vitamin E and bioflavonoids. Antioxidants help to support the body against the damaging effects of free radicals.
Nutrients for skin health:
The high vitamin C content of rosehip nourishes and supports healthy skin, including skin repair, collagen production and skin regeneration.
The beta-carotene found in rosehip is converted into vitamin A, which is an essential antioxidant that supports skin health and healthy sebum production.
The high content of essential fatty acids in rosehip, including oleic, linoleic and linolenic acids (omegas 3 and 6), provide nutrition to the skin and assist in skin cell rejuvenation.
Overall benefits of rosehip includes:
Support the body's natural healing ability
Assist with the natural process of skin renewal after exposure to the sun
Suitable for overall skin health
Support for the natural ageing process