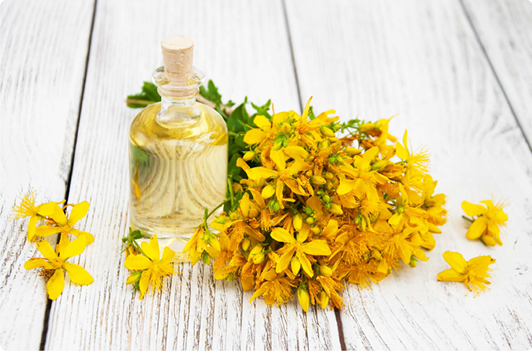 St John's Wort, otherwise known as Hypericum, is a common, evergreen plant with yellow flowers. It is found all around the world and is often considered a nuisance weed because it can be so prolific. To many however, it is a much loved herb because of the support it provides. Its constituents hyperforin and hypericin, found in the aerial parts of the plant (flowering tops), and are known to support a healthy and happy mood. St John's Wort been used in traditional herbal medicine since ancient Greek times as a herbal tea, an infused oil and an alcohol extract.
As a single oral remedy, St John's Wort can be found as capsules, tablets, homeopathic oral sprays, drops and tablets, a liquid herbal extract or dried herb tea. It can also be found in combination with other herbs such as Lemon balm and Passionflower and nutrients such as tyrosine. With either the single herb or the formulated products, they are generally designed to:
Relieve stress and tension
Support normal mood balance
Soothe the nervous system, assisting with sleep
Assist at times of restlessness and nervousness
Aid normal recovery after surgery or trauma
If taking St John's Wort to improve mood balance, it is generally recommended to take it consistently for the best outcomes, and if taking prescription medication, it is essential to discuss with your health practitioner before beginning to take it, as it can interact with some medication.
There are also topical products that contain Hypericum (St John's Wort) available as creams, balms and oils. These are also found as either the single herb or are combined with other herbs such as Calendula or pure essential oils like Rosemary. These products are specifically formulated to:
Soothe nerve comfort
Aid with normal skin recovery
Antiseptic qualities support natural skin healing
Help with muscular comfort
Due to the versatility of this magnificent herb, it is an ideal addition to the bathroom cupboard as a go-to product or for times when one needs emotional support, to aid in reaching a state of calm and balance.