Young or old, macaroni cheese is always a crowd-pleaser. I wanted to create this recipe with a healthier twist while still feeding the soul and satisfying the cravings. This 15-minute vegan mac and cheese is easy, delicious and has hidden veggies that even the kids won't detect.
Using a gluten-free pasta and omitting the cheese makes this recipe allergy-friendly too, meaning everyone can enjoy it. Pumpkin, cashews and coconut create a smooth velvety base while the organic yeast flakes add the savoury cheese-like flavouring and the apple cider vinegar gives a little zing.
Make sure you have all your ingredients ready and the jug full and boiled to make this a super easy and quick dinner.
The star ingredients


Yeast flakes are packed full of nutrition! They are gluten-free deactivated yeast that is full of vitamins, minerals and protein. They naturally have a savoury cheese-like flavour making them a perfect kitchen staple for an array of different dishes. Nutritional yeast contains naturally occurring B vitamins, including B1, B2, B3, B6, B12 as well as iron, zinc and selenium.
Apple cider vinegar is another pantry staple that every kitchen should have. Unpasteurised and unrefined apple cider vinegar with the mother means it contains enzymes and friendly bacteria that are beneficial for the digestive and immune system.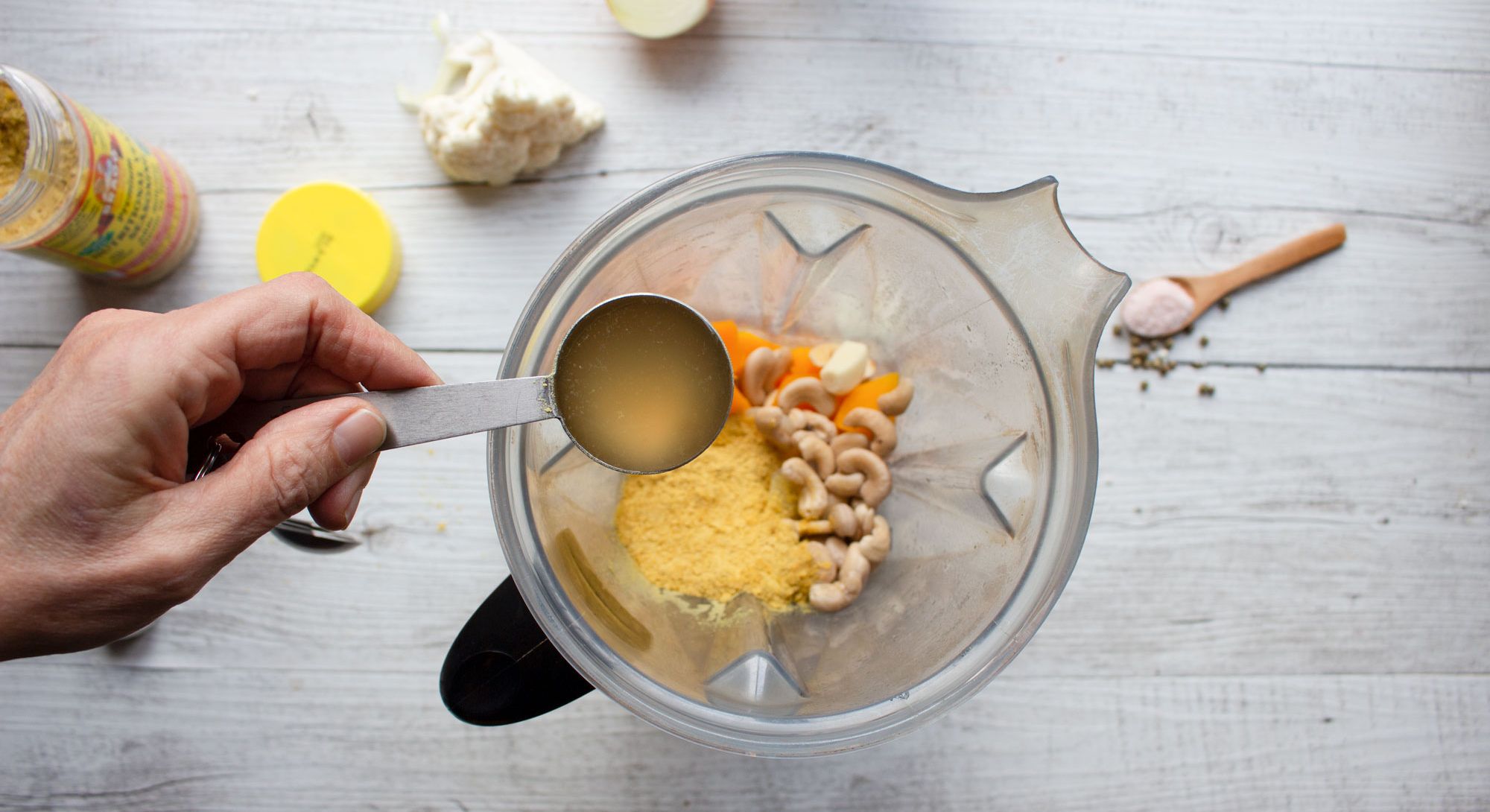 Makes: 4 generous servings
Total time: 15 minutes
Gluten and dairy free
Ingredients
250g gluten-free macaroni pasta
½ cauliflower
1 cup pumpkin
½ white onion
1 garlic clove
½ cup cashew nuts
4 TB coconut milk
1 tsp salt and pepper to taste


Preparation
Boil a full jug of water
Just cover cashews with boiling water and set aside
Peel and chop pumpkin, onion and cauliflower
Place pumpkin and onion in a pot and cover with boiling water, cook covered for about 10 minutes until soft enough to blend
At the same as the vegetables are cooking, cook pasta as per packet instructions in salted water with cauliflower
Drain cooked pumpkin and onion and place into a high-speed blender along with garlic, drained cashew nuts, coconut milk, yeast flakes, vinegar and salt and pepper. Blend until really smooth
Pour sauce over cooked macaroni pasta and cauliflower in your desired serving dish
Season and serve immediately.
Made this recipe? Share your photos with us on Instagram @HealthPostNZ or on our Facebook page.
{ "url": "/blog/15minute-vegan-mac-and-cheese/", "description": "Young or old, macaroni cheese is always a crowd-pleaser. I wanted to create this recipe with a healthier twist while still feeding the soul and satisfying the cravings. This 15-minute vegan mac and cheese is easy, delicious and has hidden veggies that even the kids won't detect. ", "recipeCategory": "Meal", "calories": "", "images": ["https://www.healthpost.co.nz/product_images/uploaded_images/vegan-mac-and-cheese-banner.jpg"], "ingredients": [ "250g gluten-free macaroni pasta", "½ cauliflower", "1 cup pumpkin", "½ white onion", "1 garlic clove", "4 TB coconut milk", "3 TB Organic Savoury Yeast Flakes", "2 TB Organic Cider Vinegar", "1 tsp salt and pepper to taste" ], "instructions": [ "Boil a full jug of water", "Just cover cashews with boiling water and set aside.", "Peel and chop pumpkin, onion and cauliflower.", "Place pumpkin and onion in a pot and cover with boiling water, cook covered for about 10 minutes until soft enough to blend." "At the same as the vegetables are cooking, cook pasta as per packet instructions in salted water with cauliflower.", "Drain cooked pumpkin and onion and place into a high-speed blender along with garlic, drained cashew nuts, coconut milk, yeast flakes, vinegar and salt and pepper. Blend until really smooth.", "Pour sauce over cooked macaroni pasta and cauliflower in your desired serving dish.", "Season and serve immediately." ], "nutrition": { "totalFat": "", "totalCarbs": "", "netCarbs": "", "totalProtein": "" }, "prepTime": "", "cookTime": "", "totalTime": "15 minutes", "recipeYield": "", "keywords": "15-Minute Vegan Mac and Cheese" }