Being a conscious consumer is about so much more than just avoiding plastic – really, what we should be cheering on is an overall reduction in waste – after all, Kiwis discard 15.5 million tonnes of waste every year!
The reason plastic gets such a bad name is that we produce – and throw away – so much of it! The world produces 300 million tonnes of plastic every year and 50% of that will only be used once. So eliminating single-use plastic – bags, food wrap, take away cups and straws are easy wins. But choosing products that you won't have put into landfill – plastic or otherwise – is even better.
Join a toy library
It's a well-known "fact" that kids get bored, you see it all the time, they'll play with one toy one minute and yet are on the hunt for a new thing to play with the next. It has been estimated that the toy market has an approximate revenue of more than $80 billion on an annual basis, worldwide .. that is a lot of toys for kids to get bored of and eventually end up in landfill.
Try reducing the amount of "landfill toys" by joining up to a toy library, not only do you reduce the amount of plastic toys which end up in landfill but you're also saving money! Buy quality toys that will last for many years (and many kids) to come! There are great craftsmen who hand-make amazing toys.
Opt for plastic-free alternatives in your bathroom
80 billion plastic bottles are disposed of around the world every year just from shampoo and conditioner alone. Simply opting for a bar alternative to your bathroom essentials can make a huge difference. Ethique's range of solid products contain little to no water, they are free from formaldehyde, sodium lauryl sulphate and other undesirable ingredients. This means they are safer for you and the planet. A solid product means there is no wasteful packaging - jars and bottles are eliminated. One Ethique shampoo and conditioner combo collectively prevents 8 plastic bottles from being made and disposed of, and saves 7.8 litres of water!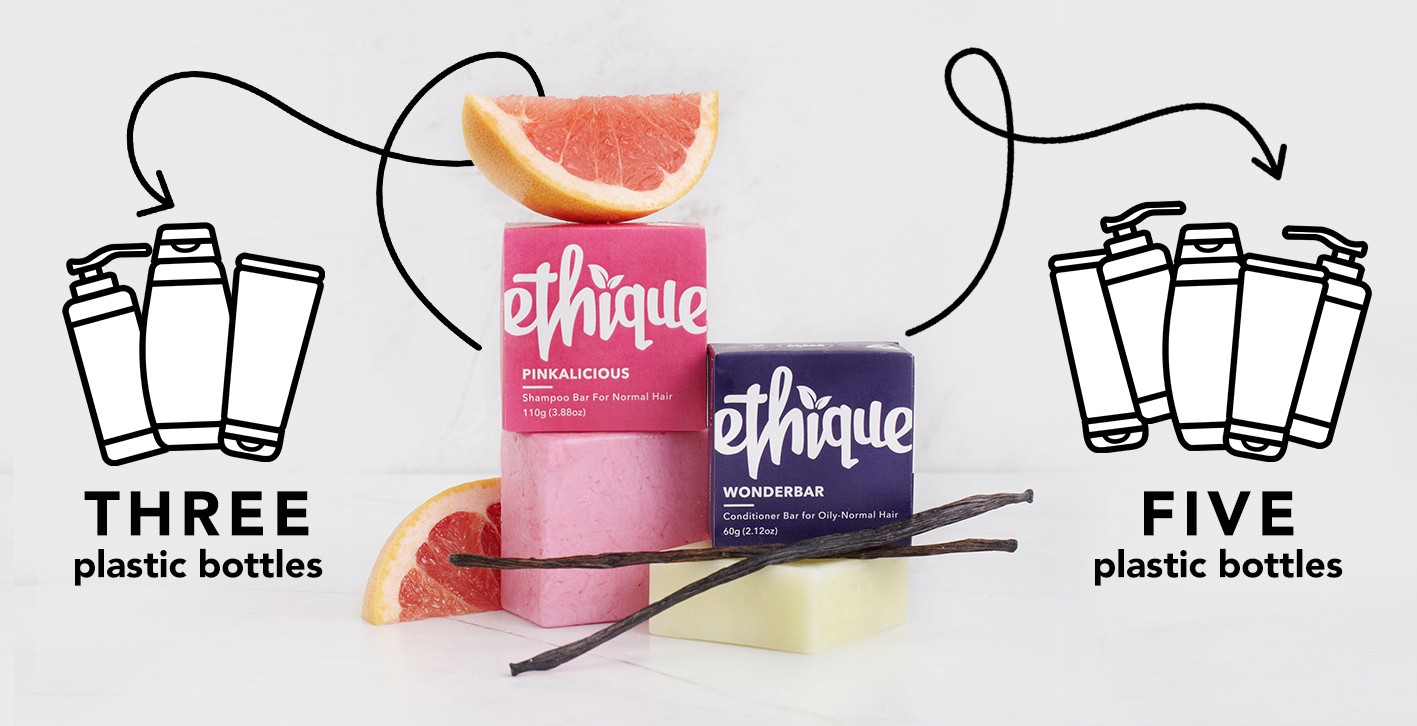 Become best-friends with your freezer
Us Kiwis throw away over 157 tonnes of food a year, that's the equivalent to 20 elephants! All of this waste is worth over $1.1 billion a year. The biggest rejects are bread (29 million loaves of bread a year), leftovers & fruits, all of which can be avoided.
The freezer is your best friend! Have your bananas or apples gone brown? Have your raspberries gone a bit too soft? Has your feijoa tree produced more feijoas than you can count? Pop them all into the freezer! They are great for smoothies or baking for those last-minute pop ins by the family.
If you really need to throw out that moulding bag of bread, pop it into the green bin or compost it!
Say it with your voice, not a card
We're all trained that when there is a big celebration, one must turn up with a beautifully wrapped gift and a greeting card, but with over 2 billion tons of waste produced over Christmas alone, is that wrapping paper and greeting card really worth it? If you're not quite ready to break away from the wrap & card, try looking at reusing paintings made by your kids, using fabric scraps, reusing old boxes or even newspaper. DIY cards are also super easy to make, even with old tags or cut up boxes which can have a more personal meaning than that rushed decision at the dairy or petrol station.
Repair, donate and buy second hand
When was the last time you repaired something rather than throw it out? Get handy the next time a hole magically appears in your top or a lamp stops working, spend a couple of minutes to see if it's fixable rather than locking eyes with the bins. Better yet, donate it or pass it onto someone who will love it and can mend it. If that lamp is unwanted but one is still needed, pop to your local second hand store or lurk the garage sale groups on Facebook and grab a second hand one for a fifth of the price! Don't get caught up with this 'throwaway' culture. New isn't always best.
Go digital!
The average Kiwi letterbox is jammed with 30kg worth of circulars – that's about 300,000 trees worth of paper! Take a couple of minutes to pop online and opt for an online copy of your bank statements, emailed bills/invoices and contact businesses to cancel catalogue mail outs. A lot of the big name businesses these days have their catalogues available online.
With all of the easy changes above, there are so many ways to reduce your waste and every small change has a huge impact! Even simple changes like switching to loose tea over tea bags, and buying food in jars rather than plastic - it all adds up. The key is to look at your habits and purchasing decisions, and look for ways to make small, simple changes, one step at a time.
Ethique is passionate about creating products that are waste free, natural and effective. Ethique uses biodegradable ingredients and wrappers so that their solid bars leave no trace on the planet, no bottles, jars, lids or pump dispensers contributing to landfill or oceanic pollution. You can pop the compostable wrapping into your compost bin. Shop the entire Ethique range on our secure online store.