You already know the reasons to use sunscreen… But do you know which are the healthiest sunscreens to use? At HealthPost, we're proud to be picky about what we protect our skin with. We only stock sunscreens that use the safest possible ingredients – for our health and for the environment. It's all part of our strict ingredient standards, so you know you're making a healthier choice. And of course, all our products are free from animal testing too.
---
Here's what you need to know about sunscreen ingredients and choosing the best product for you and your family.
---
Our top natural sunscreen picks
Looking for the healthy sunscreen to use this summer? We've hand-picked our most effective natural sunscreens for you to make the best choice for you and your family.
This unique formula provides high sun protection, while hydrating and nourishing your skin. Made with antioxidant-rich ingredients including Green Tea Leaf Extract, Rosehip Oil, and Vitamin E. And a natural golden tint that leaves your skin radiant and glowing for long summer days.
---
After family-approved SPF? This beautifully smelling body balm uses a concentrated formula – ensuring long last use, and glides onto skin smoothly – without the unwanted white cast. It also uses gentle ingredients like Moringa and Harakeke to care for sensitive skin types. Whether it's an option for bub – or a gentle choice for yourself, this top-rated essential is sure to be a new favourite.
---
Sunscreen deserves a spot in every daily skincare ritual – and this Eco by Sonya Face Sunscreen makes an easy addition. Formulated with an ultra-light, sheer matte finish – this nourishing lotion works great as a base for makeup, and is non-comedogenic, so it won't block your pores. Using ingredients like watermelon seed, cucumber and sunflower – your skin will stay protected and hydrated with this feel-good option.
---
After a naturally nourishing formula for thirsty skin? Featuring botanical ingredients like rose, geranium, chamomile and green tea - welcome sun-safe skin this summer with this award-winning favourite. What's more – it's antioxidant-rich, supporting optimal skin health while deeply hydrating your complexion.
---
Looking to get your dollars' worth, while safely protecting your skin? This SPF doubles as a moisturiser and uses omega-rich plant oils like rosehip oil and antioxidant-rich vitamin E to gently nourish and protect. It's also non-nano, reef safe and lightweight - what's not to love?
---
Physical versus Chemical Sunscreen
Sunscreens fall into one of two categories: chemical sunscreens or physical barrier sunscreens.
Chemical Sunscreen:
Synthetic compounds create a chemical reaction in our skin
Transforms the UV rays from the sun into heat
Physical Sunscreen:
Contain active mineral ingredients (zinc oxide and titanium dioxide)
Deflect the UV rays away from us, acting like a physical barrier.
Active immediately, so you don't have to wait 20 minutes before going outside and enjoying the sun
Gentle enough for sensitive skin types.
Both types protect our skin from getting burned. But things get a little complicated when you consider that our skin is our largest organ and can absorb some ingredients. This means opting for a physical sunscreen may limit exposure to some synthetic chemicals, but unfortunately some physical sunscreens also contain unwanted chemicals. This makes it all the more important to be familiar with ingredients that you're putting on your skin.
What about safe sunscreen ingredients?
Our Ethical by Nature Promise means we only stock products that are safe for people and the planet. And with our marine sustainability policy, you can feel good knowing every sunscreen we stock has been independently tested for label claims and are free from unwanted chemicals.
---
(Particle) size does matter
Zinc oxide and titanium dioxide are mineral-based UV filters known for their broad-spectrum protection and safety, but they can be a little thick to apply.
That's where nanotechnology comes in. It might sound like science fiction, but nano basically means 'super small.' This technology reduces the particle size, so that nano-zinc or nano-titanium glide on clear. You might also see some sunscreens promoted as 'micronised', which means (very fine) particles, although not as small as nano.
We sell nano-zinc and nano-titanium products because nano has been deemed safe by multiple authorities, as it isn't absorbed through the skin. There is research that suggests nano should be avoided in aerosols for lung health, so we don't stock those. As per New Zealand laws, we always make it clear if a product contains nano ingredients.
Let's talk texture
As we've mentioned, zinc based mineral UV sunscreens can be quite thick. If you're an '80s child' reading this, you will likely remember the 'paint-like' zinc that surfers and lifeguards used to wear across their noses at the beach. Luckily, sunscreens have come a long way since then, but there is still an art to application. Remember: dot, don't smear. Applying a series of small dots of physical sunscreen onto areas exposed to sun, and then rubbing into skin, will give you a more even application and not feel so heavy. These days many sunscreens have evolved and been designed to rub into the skin more clearly, leaving a less greasy finish at all particle sizes.
---
How to apply sunscreen and avoid the white finish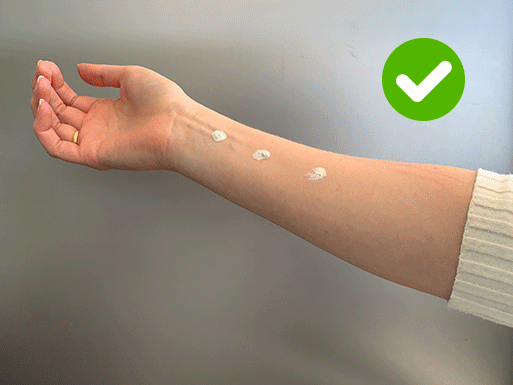 ---
Remember, sun safety means seeking shade during peak times of sun exposure. Re-apply sunscreen throughout the day, especially after being in water. Cover your skin in loose, light clothing and always wear a wide brimmed hat and sunglasses.
Steering clear of summer sun - but still after that gorgeous glow? For a bronzed, sun-kissed look - you're sure to appreciate our natural tanning range.