You already know the reasons to use sunscreen… But do you know which are the healthiest sunscreens to use? At HealthPost, we are proud to be picky about what we protect our skin with. We only stock the best sunscreens that use the safest possible ingredients – for our health and for the environment. It's all part of our strict ingredient standards, so you know you're making a healthier choice. And of course, all our products are free of animal testing too.
Here's what you need to know about sunscreen ingredients and choosing the best product for you and your family.
Our top natural sunscreen picks
Looking for the best (and healthiest) sunscreen to use this summer? We've hand-picked our most effective natural sunscreens for you to make the best choice for you and your family.
For lightweight coverage with a glowing tint: Little Urchin Natural Sunscreen
Little Urchin Natural Sunscreen
This unique formula provides high sun protection, while hydrating and nourishing your skin. Made with antioxidant-rich ingredients including Green Tea Leaf Extract, Rosehip Oil, and Vitamin E. And a natural golden tint that leaves your skin radiant and glowing for long summer days.
---
For superior SPF 50 protection from UVA radiation, Solimara is your skin's saviour. Made with Zinc Oxide, Sweet Almond Oil and Jojoba, this gentle, nourishing formula is suitable for all skin types – including little ones with sensitive skin. Certified NATRUE by BioGro and a Mindful Brand, you can be sure you're making a great choice with Solimara.
---
If easy and eco sunscreen is at the top of your list then you'll love Goodbye Ouch's Sustainable Sunscreen Starter Kit. In an easy-to-refill aluminium tin, it's not only kinder on the planet, but keeps your sunscreen cool on hot days. It comes with one small tin that fits perfectly in your pocket for day trips, and a larger tin that you can use to refill from. With nourishing ingredients like Manuka and Tamanu, your skin will stay protected and hydrated.
---
Physical versus Chemical Sunscreen
Sunscreens fall into one of two categories: chemical sunscreens or physical barrier sunscreens.
What's the difference? In chemical sunscreens, synthetic compounds create a chemical reaction in our skin, which transform the UV rays from the sun into heat, which is released into the air. On the other hand, physical sunscreens contain active mineral ingredients (zinc oxide and titanium dioxide), which act like a mirror, sitting on top of the skin to deflect the UV rays away from us. Put simply, physical sunscreens act like a physical barrier. These are also useful as they are active immediately, so you don't have to wait 20 minutes before going outside and enjoying the sun. And they are gentle enough for sensitive skin types.
While both types of sunscreen work to protect our skin from getting burned, things get a little complicated when you consider that our skin is our largest organ and absorbs very small amounts of some ingredients. Therefore, for human health reasons, opting for a physical mineral sunscreen limits your exposure to some potentially harmful synthetic chemicals. That's not to say that all physical barrier sunscreens get the tick though. Unfortunately, some contain nasty chemicals alongside the active mineral ingredients, so it's important to read the labels carefully.
What about safe sunscreen ingredients?
Of course, shopping with us makes healthy shopping a little easier; you can be confident that our Ethical by Nature Promise means we only stock products that are safe for people and the planet. In fact, our Sunscreen SPF Policy ensures we only stock sunscreens that have been independently tested for label claims and that are free from harmful chemicals like oxybenzone and octinoxate. We believe we stock the safest natural sunscreens to keep your skin (and our planet) healthy and protected.
Label claim concerns
Recent news stories have revealed that some sun protection creams do not meet their label's SPF claims. Despite New Zealand's extremely high rates of melanoma and skin cancer, it is not compulsory for sunscreen manufacturers in New Zealand to test their products. We think that's unacceptable and irresponsible. So, to ensure you get the level of protection that you're paying for, we only sell sunscreen that has been independently tested by our suppliers to prove its label claims, including the SPF rating and water resistance.
(Particle) size does matter
Zinc oxide and titanium dioxide are mineral-based UV filters known for their broad-spectrum protection and safety, but they can be a little thick to apply. That's where nanotechnology comes in handy. It might sound like science fiction, but it basically just means 'super small.' This technology reduces the particle size, so that nano-zinc or nano-titanium glide on clear. You might also see some sunscreens promoted as 'micronized', which means (very fine) particles, although not as small as nano. We sell nano-zinc and nano-titanium products because nano has been deemed safe by multiple authorities, as it isn't absorbed through the dermis. However, research suggests nano should be avoided in aerosols as these can be damaging to lungs, so we don't sell aerosols. As per New Zealand laws, we always make it clear if a product contains nano ingredients.
Let's talk texture
As mentioned above, zinc based mineral UV sunscreens can be quite thick. If you're an '80s child' reading this, you will likely remember the thick 'paint-like' zinc that surfers and lifeguards used to wear across their noses at the beach. Fortunately, sunscreens have come a long way since then, but there is still an art to the application. Remember this: dot, don't smear. You'll find that applying a series of small dots of physical sunscreen on your limbs and face and then rubbing into the skin will give you a much better result and less of a chalky finish. Technology advances have worked in our favour though and these days some sunscreens have been designed to rub into the skin more clearly and leave a less greasy finish at all particle sizes.
How to apply sunscreen and avoid the white finish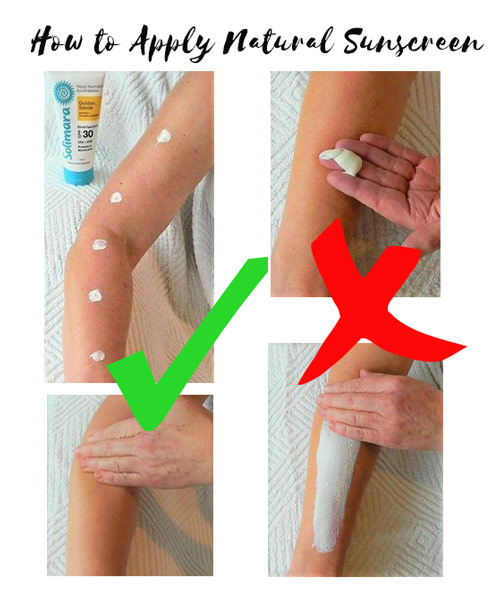 Is sunscreen reef safe?
Although some ingredients have been identified as damaging to coral, unfortunately at this time there's no test to prove what is 100% safe. HealthPost Natural Health Expert Liz McNamara explains, "Just because something is natural doesn't deem it safe for reefs and we don't want to perpetuate this false belief. Natural ingredients can still be damaging, and we look forward to the day that brands can have their products reliably tested to ensure safety of the health of oceans and waterways. We won't advertise a product as reef-safe until it's scientifically proven and have therefore removed "reef-friendly" or "reef-safe" from our product descriptions. It has been recently discovered that nano zinc and titanium can impact the health of sea life, so until there is a test to prove water health safety, the best option is to cover up and not wear sunscreen in the water, but we know that's tough given how easily we are sun burnt in this part of the world."
Remember, sun safety means seeking shade during peak times of sun exposure. Re-apply sunscreen throughout the day, especially after being in water. Cover your skin in loose, light clothing and always wear a wide brimmed hat and sunglasses. If a tan is still top-of-mind for you this summer choose to go sunless and safe with our Sunscreen Policy approved natural tanning range.
Thanks to HealthPost's strict standards, we believe we have the healthiest, truly effective natural sunscreens available. Check out our full range of natural sunscreens from our secure online store.