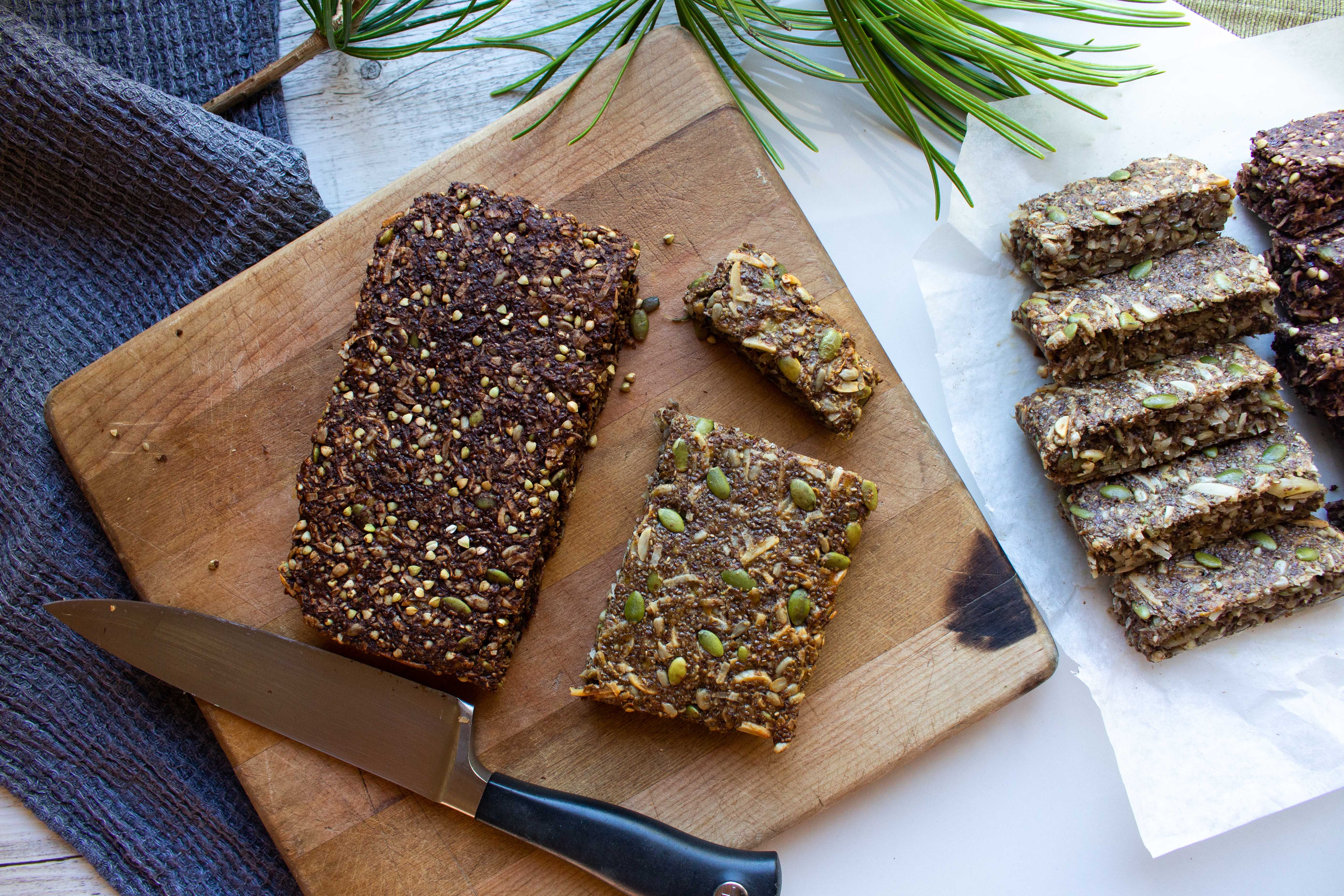 This gluten, dairy, egg and refined sugar free slice is a great on the go snack to keep you full of energy. Make this delicious chocolatey version, or swap out the cacao for a zesty lemon variation instead.
Prep time: 10 minutes
Bake time: 20-30 minutes
Servings: 10
Ingredients
3 TB chia seeds
6 TB water
2 ripe bananas, mashed
3 TB coconut oil
3 TB maple syrup
½ tsp vanilla extract
½ tsp cinnamon
1 cup shredded coconut
½ cup LSA (ground Linseeds, Sunflower seeds and Almonds)
¼ cup pumpkin seeds
¼ cup sunflower seeds
¼ cup slivered almonds
¼ cup buckwheat groats
4 TB cacao powder
¼ tsp baking soda
Pinch salt
100g good quality dark chocolate, melted (optional)
Preparation
1. Preheat oven to 160°C, fan bake and prepare a lined slice tin (20cm x20cm)
2. In a medium mixing bowl, soak the chia seeds in water until gelatinous, add in mashed banana, coconut oil, maple syrup, vanilla extract and cinnamon, mix together well.
3. In a separate bowl, combine shredded coconut, LSA, pumpkin seeds, sunflower seeds, almonds, buckwheat and cacao with baking soda and salt.
4. Mix together well with a spatula and press into the slice tin.
5. Bake for 20-30 minutes or until golden.
6. Allow to cool on a wire rack and cut into desired serving size.
7. Dip ½ of each slice into melted dark chocolate and let harden (optional step)
8. Store in an airtight container in the fridge and eat within one week.
OPTION: To make a zesty lemon variation, swap out the cacao, cinnamon and dipping chocolate for the zest of one lemon and juice of ½ lemon.
Made this recipe? Share your photos with us on Instagram @HealthPostNZ or on our Facebook page.
{ "url": "/blog/power-slice/", "description": "This gluten, dairy, egg and refined sugar free slice is a great on the go snack to keep you full of energy. Make this delicious chocolatey version, or swap out the cacao for a zesty lemon variation instead.", "recipeCategory": "Snack", "calories": "", "images": ["https://www.healthpost.co.nz/product_images/uploaded_images/powerslice-recipe-banner.jpg"], "ingredients": [ "3 TB chia seeds", "6 TB water", "2 ripe bananas, mashed", "3 TB coconut oil", "3 TB maple syrup", "½ tsp vanilla extract", "½ tsp cinnamon", "1 cup shredded coconut", "½ cup LSA (ground Linseeds, Sunflower seeds and Almonds)", "¼ cup pumpkin seeds", "¼ cup sunflower seeds", "¼ cup slivered almonds", "¼ cup buckwheat groats", "4 TB cacao powder ", "¼ tsp baking soda", "Pinch salt", "100g good quality dark chocolate, melted (optional)", ], "instructions": [ "Preheat oven to 160°C, fan bake and prepare a lined slice tin (20cm x20cm)", "In a medium mixing bowl, soak the chia seeds in water until gelatinous, add in mashed banana, coconut oil, maple syrup, vanilla extract and cinnamon, mix together well.", " In a separate bowl, combine shredded coconut, LSA, pumpkin seeds, sunflower seeds, almonds, buckwheat and cacao with baking soda and salt.", "Mix together well with a spatula and press into the slice tin.", "Bake for 20-30 minutes or until golden.", "Allow to cool on a wire rack and cut into desired serving size.", "Dip ½ of each slice into melted dark chocolate and let harden (optional step)", "Store in an airtight container in the fridge and eat within one week. " ], "nutrition": { "totalFat": "", "totalCarbs": "", "netCarbs": "", "totalProtein": "" }, "prepTime": "", "cookTime": "", "totalTime": "", "recipeYield": "", "keywords": "Power Slice" }