These Salted Cacao Hemp Ice Pops are a delicious and healthy way to cool down this summer.
Makes 8-10 large ice pops
Prep time: 5 minutes
Set time: Overnight
Ingredients
3 ripe bananas
1 can full fat coconut cream
2 Tbsp maple syrup
1 tsp vanilla paste
1 tsp cocoa powder
1 pinch of sea salt flakes
Topping Ingredients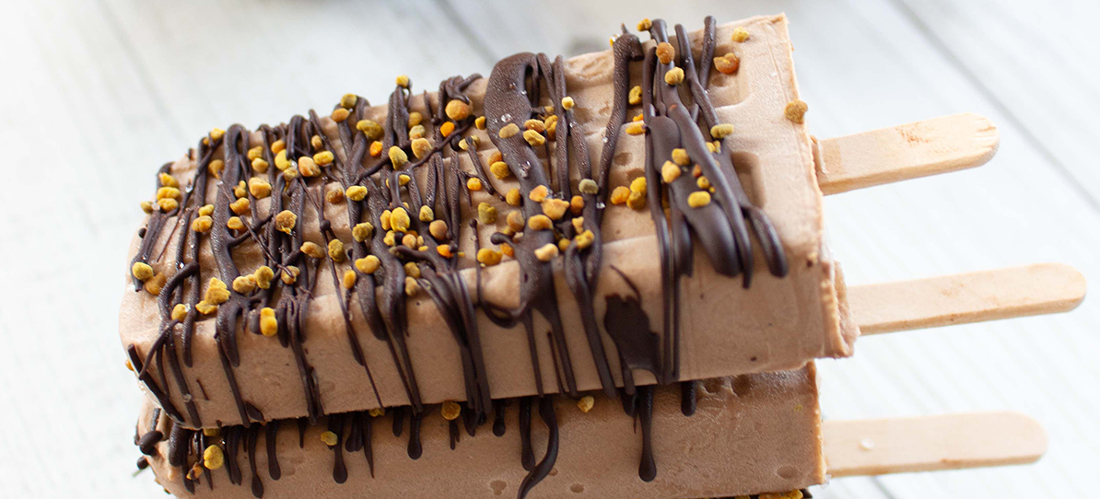 Preparation
1. Add all ice pop ingredients to a high-speed blender and process until smooth.
2. Pour into your favourite ice block moulds and place in the freezer overnight or until set.
3. For the topping, drizzle melted chocolate and sprinkle bee pollen and sea salt over the ice pops just before serving. The ice pops can be decorated and stored in the freezer until ready to eat.
Made this recipe? Share your photos with us on Instagram @HealthPostNZ or on our Facebook page.
{ "url": "/blog/salted-cacao-hemp-ice-pops/", "description": "These Salted Cacao Hemp Ice Pops are a delicious and healthy way to cool down this summer.", "recipeCategory": "Dessert", "calories": "", "images": ["https://www.healthpost.co.nz/product_images/uploaded_images/salted-cacao-hemp-pop-banner.jpg"], "ingredients": [ "3 ripe bananas", "1 can full fat coconut cream", "6 Tbsp Nutra Organics Hemp Protein Salted Cacao Maca", "2 Tbsp maple syrup", "1 tsp vanilla paste", "1 tsp cocoa powder", "1 pinch of sea salt flakes", "100g good quality dark chocolate, melted", "1 tsp BioBalance Bee Pollen", "1 pinch of sea salt flakes" ], "instructions": [ " Add all ice pop ingredients to a high-speed blender and process until smooth.", "Pour into your favourite ice block moulds and place in the freezer overnight or until set.", "For the topping, drizzle melted chocolate and sprinkle bee pollen and sea salt over the ice pops just before serving. The ice pops can be decorated and stored in the freezer until ready to eat." ], "nutrition": { "totalFat": "", "totalCarbs": "", "netCarbs": "", "totalProtein": "" }, "prepTime": "5 minutes", "cookTime": "", "totalTime": "", "recipeYield": "", "keywords": "Salted Cacao Hemp Ice Pops" }