Our copywriter Je T'aime Hayr talks functional mushrooms, how they helped support her immune system and how we can use them in our everyday life.
How I discovered the magic of mushrooms
After giving birth to my twins my immune system was noticeably weakened. Before having children I had sailed through winters without so much as a sniffle and suddenly, over summer, instead of enjoying beach trips, I was stuck at home suffering from a number of ills and chills, while everyone else in the family stayed well. After doing some research, I discovered that certain functional mushrooms can support the immune system and so I began daily supplementation. By the time winter rolled around I only had a minor scratchy throat while this time everyone else in the family had a series of sniffles. Suffice it to say: I am a believer.

Good for your gut
Functional mushrooms are rich in polysaccharides, which are nutritional compounds that are considered really useful to human health. They are also an effective prebiotic food, which means they cannot be digested. That might sound like a bad thing, but it's actually very beneficial for gut health as prebiotics promote regular bowel movements and promote the growth of good bacteria in the intestines.

Great for immune system support
Functional mushrooms have also been revered in herbalism for thousands of years for their ability to support the immune system. It's believed that they support the body's immune defences, so it is well prepared when it's under attack. The positive effects are cumulative, so for best results you will want to keep taking mushrooms. I have continued to take mushroom supplements (for around eight months now) and truth be told I feel healthier than ever. Sure, I still get tired, but I think that's two year old twins for you! On that note, I'm hoping there will be something suitable for children before mine hit their preschool years and bring home all the nasty bugs (ugh).
The top functional mushrooms

Here's a quick overview of the mushrooms that are getting people the most excited:
Chaga – Known as the 'King of the Adaptogens', Chaga helps support the body's biological stress response. It's also rich in antioxidants, supports a healthy immune system and gut health.
Reishi – Nicknamed the 'Mushroom of Immortality', reishi is rich in polysaccharides and triterpenes, which have long been considered beneficial for health and they are now being studied for their ability to support the immune system and healthy blood sugar levels.
Cordyceps – Traditional Himalayan healers consider this mushroom to be a healing tonic for 'all ailments' as they claim it supports energy levels, normal appetite, a healthy libido, as well as endurance and normal sleeping patterns.
Lion's Mane – Known as the 'smart mushroom' due to its ability to support healthy brain function and mental clarity

,

lion's mane is also said to aid digestion as well as support energy levels and strength.
How to add mushrooms to your daily routine
Quality brands such as Four Sigmatic and SuperFeast have made taking these exotic mushrooms easy by pre-mixing them into powdered blends that you can drink on their own, or add to hot drinks such as coffee, tea or miso, as well as blend in smoothies or sprinkle on a savoury dish. The taste is slightly bitter, but not unpleasant. As for the side effects? I absolutely love lion's mane, it gives me a noticeable boost and I feel super focused but without the jittery caffeine comedown of coffee. It's the perfect start to a busy day. At the other end of the scale, Four Sigmatic's Reishi Cacao Mix is a tasty pre-bed treat as it gives a real sense of calm when you need to unwind. And then for supporting my immune system, I have found taking a blend of reishi, shiitake, chaga and maitake has helped me. I rave about functional mushrooms to anyone who complains of being tired, stressed, suffering from a weak immune system or just simply looking to boost their overall health and vitality.
TAPS 3179
Shop HealthPost's range of functional mushrooms including reishi, chaga, lions mane and cordyceps online now.
Article by Je t'aime Hayr, HealthPost copywriter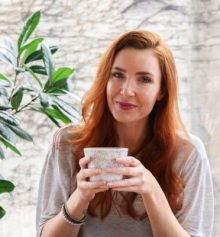 A self-confessed 'Green Smoothie Queen', Je t'aime loves to write about health, wellness and eco-living, and has not-so-secret hopes that her words may help to 'save the world' while inspiring people to live their best life. She lives in Auckland with her partner and their two boisterous twin boys, and when she's not busy writing or wrangling her toddlers, you'll probably find her dancing, at the gym or unwinding on her shakti mat while reading one of the many books she has on the go.