This tropical inspired green smoothie with spirulina is a great source of plant based protein and iron. Ideal for breakfast or on the go for an energy boost.
Serves 2
Ingredients
1 1/2 cups filtered water or coconut water
1/2 cup ice
1 cup baby spinach
1 cup fresh pineapple pieces
1 green kiwi fruit
1-2 cm fresh ginger root
Juice of 1/2 lime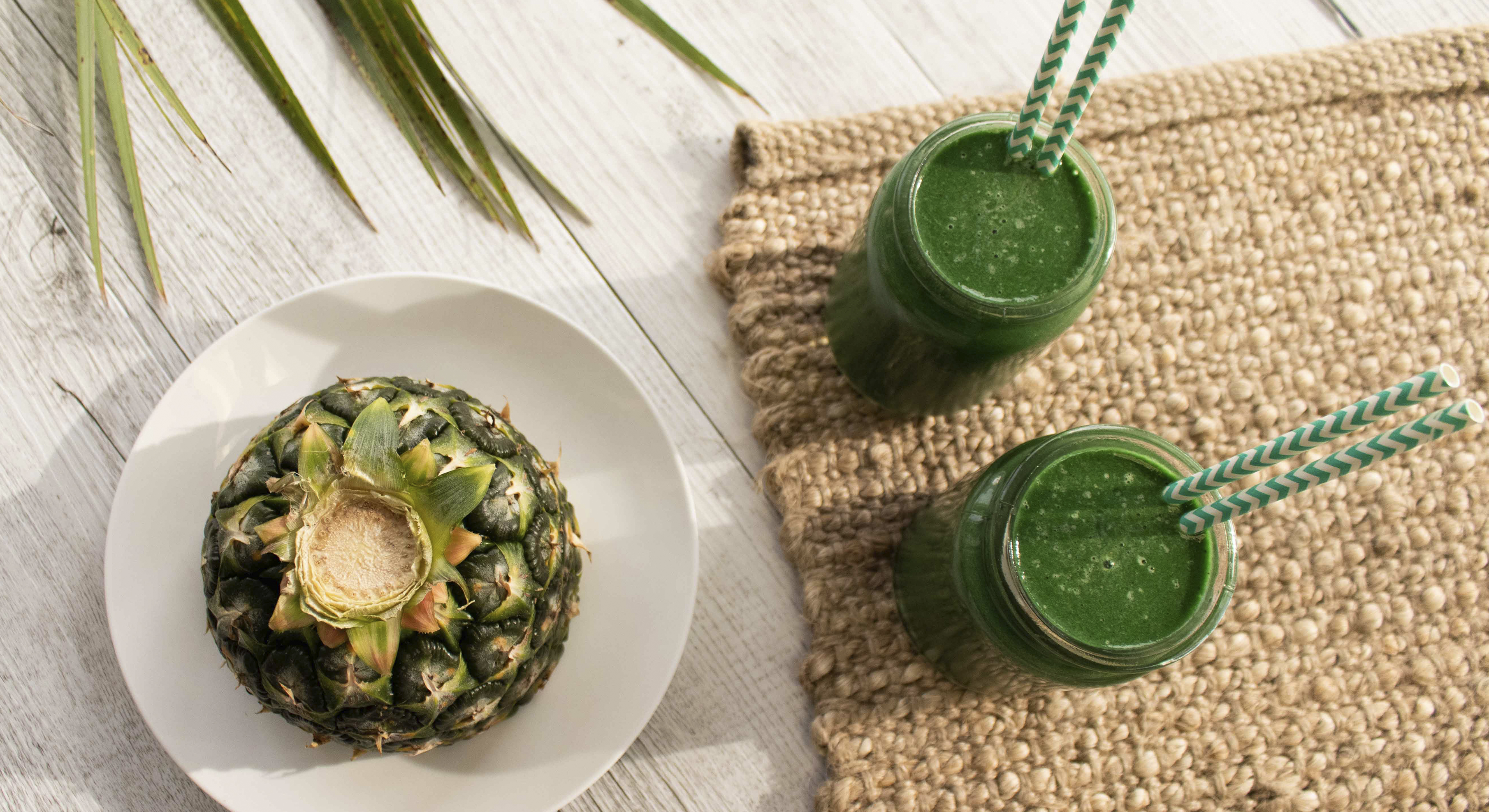 Preparation
Add all ingredients to a high-speed blender and blend until smooth. Pour into your favorite glass and enjoy!
VITUS Pure Premium Grown Spirulina Powder is a natural source of bioavailable iron, contains over 65% easily digestible protein, along with vitamins, minerals, essential fatty acids such as GLA, and is a great source of antioxidants. VITUS Pure Wholefood Supplements are a vegan alternative to synthetic vitamins and minerals. Ethically sourced from across the globe, the ingredients that make up the blend for each VITUS product are selected for their superior nutrient profiles, and packaged as nature intended for peak results. Shop VITUS Pure Premium Grown Spirulina Powder and their full range online.
Made this recipe? Share your photos with us on Instagram @HealthPostNZ or on our Facebook page.
{ "url": "/blog/tropical-green-smoothie-with-spirulina/", "description": "This tropical inspired green smoothie with spirulina is a great source of plant based protein and iron. Ideal for breakfast or on the go for an energy boost.", "recipeCategory": "Drink", "calories": "", "images": ["https://www.healthpost.co.nz/product_images/uploaded_images/vitus-tropical-green-smoothie-banner.jpg"], "ingredients": [ "2 tsp VITUS Pure Premium Grown Spirulina Powder", "1 1/2 cups filtered water or coconut water", "1/2 cup ice", "1 cup baby spinach", "1 cup fresh pineapple pieces", "1 green kiwi fruit", "1-2 cm fresh ginger root", "Juice of 1/2 lime" ], "instructions": [ "Add all ingredients to a high-speed blender and blend until smooth. Pour into your favorite glass and enjoy!" ], "nutrition": { "totalFat": "", "totalCarbs": "", "netCarbs": "", "totalProtein": "" }, "prepTime": "", "cookTime": "", "totalTime": "", "recipeYield": "", "keywords": "Tropical Green Smoothie with Spirulina" }