The notion of 'natural beauty' inspires thoughts of clear, radiant, youthful-looking skin. But what exactly does this phrase mean?
Natural skincare and cosmetics are having a major moment. Not only do they feel great when applied to skin, but with the growing awareness of toxic ingredients like formaldehyde-releasing preservatives, petroleum bases, parabens, and hormone-disrupting fragrances, people are demanding healthful options more now than ever.
Natural or not?
One of the major problems many new customers face when searching for so-called natural skincare, is that the meaning of the word 'natural' is very broad. It often portrays an idealisation of the product rather than hold any truth. For example, a cream might contain 'natural herbal extracts', and yet still include a raft of other synthetic chemicals which make up 95 per cent of the ingredients. If buying truly natural skincare is of utmost importance, you'll want full transparency around exactly what's in that jar.
Upon the inception of natural skincare, the ingredients used were mainly whole plant extracts – things like rosehip, sweet almond and carrot seed oils were easily recognisable on product labels. However, the advancement of technology and growth of the natural skincare industry makes it harder to establish if what you're purchasing is derived from natural ingredients.
What's in a name?
Everything is made of chemical compounds – even water – but many chemicals contained in skincare are derived from plants, and then isolated in a lab. These are still natural but may have longer, scientific names like capric triglyceride or sodium stearoyl glutamate. How is one meant to tell the difference between an isolated chemical derived from something natural, and a synthetic chemical derived from petroleum? Selecting natural skincare is certainly a minefield.
Good for you
With HealthPost's Ethical by Nature Promise, we carefully check every new product to ensure it delivers on Aotearoa's leading ethical, ingredient and environmental standards. If it's made the grade, you can be sure it's a kinder choice for both you and our planet.
Good for the environment
Ingredients aside, many natural skincare companies are starting to employ environmental considerations to their packaging. This goes far beyond only the packaging being recyclable – what footprint does it have? Consumers nowadays demand to know where their products come from, and what trace they leave behind. Such values will be specific to each person, but the general consensus is a desire for improved natural skincare packaging options, that are better for the environment and don't leave a lasting impact, while still protecting the precious contents within.
Self care
On the same vein lie personal care items, with their environmental impact being just as tenuous as the former. It's astonishing to ponder the number of plastic toothbrushes that sit in landfill if everyone on the planet disposes of four plastic toothbrushes per year. With options like bamboo toothbrushes, refillable dental floss, menstrual cups, and compostable packaging, it's great to see positive steps being taken to reduce waste or the use of plastic. If you want to make changes in your own bathroom cabinet but are feeling a bit overwhelmed, start by making one change at a time – even the simplest swap-out could make a massive difference.
Beauty from within
With any beauty regimen, it's important to remember that external appearance reflects internal health. Think of the body holistically – we should all form an understanding the importance of clean and abundant water, consuming plenty colourful vegetables high in antioxidants, as well as sources of protein to assist normal detoxification and collagen formation.
The body should be eliminating waste well so that the pores stay clear, which places emphasis on the health of the digestive tract, kidneys, and liver, achieved through good diet and lifestyle measures. Supplementing with the right nutrients also helps – think plenty of collagen, antioxidants, Vitamins A, C, E, zinc, essential fatty acids, fibre, and biotin.
Whatever additions you make to your natural beauty regimen, they should help clear, refine, plump, and smooth your naturally beautiful canvas.
Our Natural Skincare Picks: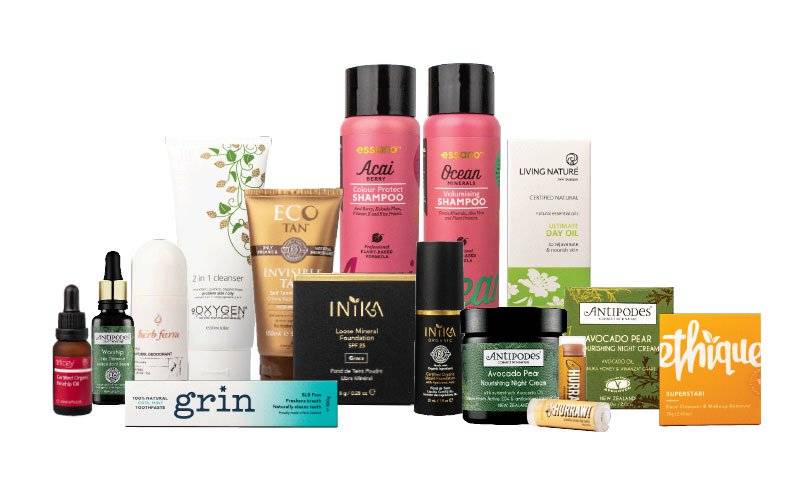 Whether you're looking for cruelty-free, organic or environmentally-friendly skincare, every brand and product we stock goes through our ETHICS check - so you know they meet our bar-raising standards before they go on our shelves.
Vegan and Cruelty Free:
The importance of cruelty-free skincare has been a point hammered home in recent years, but with it comes a rise of vegan products that are completely free from animal derivatives.
Shop all vegan natural beauty and body products.
Recyclable Packaging:
There's a growing trend among conscious consumers to seek out naturally good products that are kind to the earth too. Ditch the plastic and opt for these recyclable alternatives.
Shop all recyclable packaged natural beauty and body products.
New Zealand Manufactured:
New Zealand has a reputation for producing high-quality products that are highly regarded on a global scale. These natural personal and skincare products are lovingly made in our own backyard.
Shop all NZ manufactured natural beauty and body products.
Certified Organic:
Opting for organic skincare means that you're getting the healthiest ingredients, minus the harmful pesticides.
Shop all certified organic natural beauty and body products.
For these natural beauty products and more, shop online on our secure website.
Author: Liz McNamara is the Natural Health Expert at HealthPost and has over 16 years of experience in natural health. As a Registered Naturopath and the President of the Naturopaths & Medical Herbalists of New Zealand (NMHNZ), Liz is passionate about health education and helping others to lead naturally healthy lives.