Tired of stodgy winter cooking?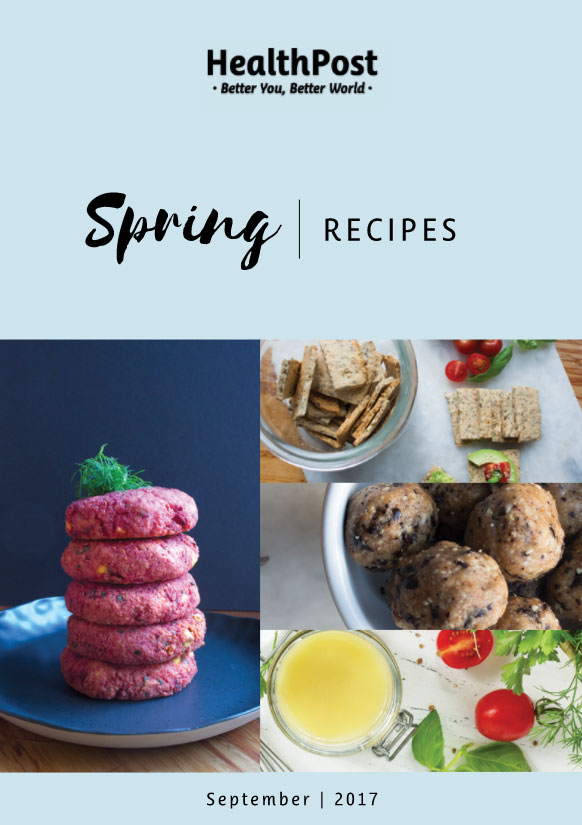 Download the HealthPost Spring Recipe e-book and try our delicious recipes for you and your loved ones ♥
Check out our fresh and wholesome recipe ideas below!
---
Dates Stuffed with Cashew Nuts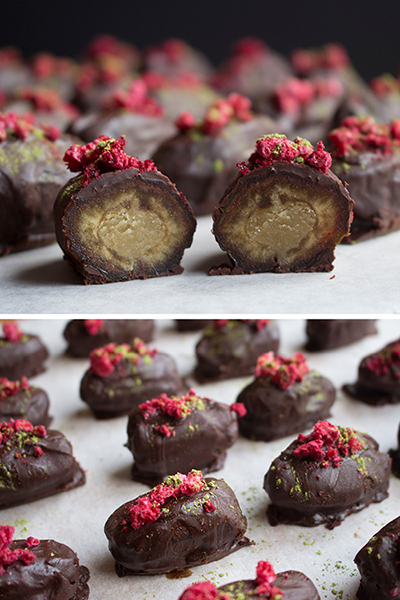 These decadent stuffed dates will satisfy your sweet cravings and are full of goodness!
Ingredients
Method
Slice dates length ways with a sharp knife, remove pip and set aside.
Blend cashew nuts in a high-speed blender with salt until smooth
Fill center of dates with cashew butter and squeeze shut. Once all dates are filled place in fridge to set.
Combine coconut oil, cacao and maple syrup in a small saucepan over a low heat until just melted and smooth.
Dip cashew filled dates in chocolate mixture and place on lined tray. Set in fridge for 5 minutes and then re-dip.
Sprinkle with dried raspberries.
Once ready to serve, dust with matcha powder.
Store in airtight container in the refrigerator.
Quinoa Beetroot Patties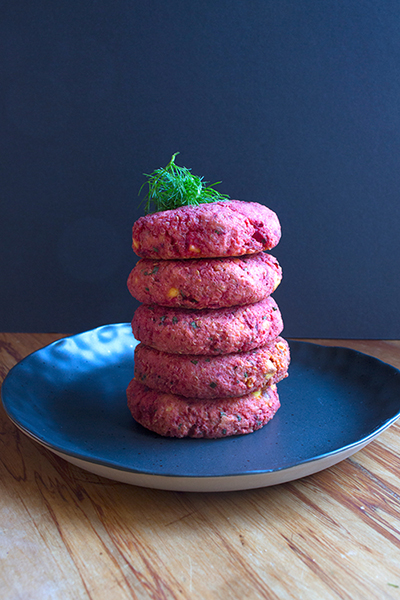 These vibrant, protein rich vegetarian patties are the perfect snack, salad addition or traditional burger patty alternative. The recipe makes 6 medium sized patties.
Ingredients
½ cup white quinoa
1 large beetroot, peeled & finely grated
1 large potato, peeled, boiled & mashed
4 TB ground almonds
1 egg, beaten
¼ cup chives, finely chopped
2 garlic cloves, minced
½ tsp fresh ginger root, grated
100g feta cheese, crumbled
½ tsp dried thyme
Salt and pepper to taste
Method
Pre-heat oven to 180 degrees Celsius, set to fan bake and line baking tray with baking paper
Pre-cook ½ cup quinoa with 1 cup water. Bring quinoa to boil then reduce to low heat and cook (covered) until water is completely absorbed. This will take approximately 10 minutes
Combine all ingredients in a medium-sized bowl until well incorporated
Portion out mixture into desired size and roll into a ball. Gently flatten to make patties 5. Place onto a plate and refrigerate for 10-15 minutes 6. Place patties on
Place onto a plate and refrigerate for 10-15 minutes
Place patties on lined baking tray and bake for 20-25 minutes or until crispy on top 7. Serve
Serve in a burger, salad or with a delicious yoghurt herb sauce (see page 20)
Paleo Crackers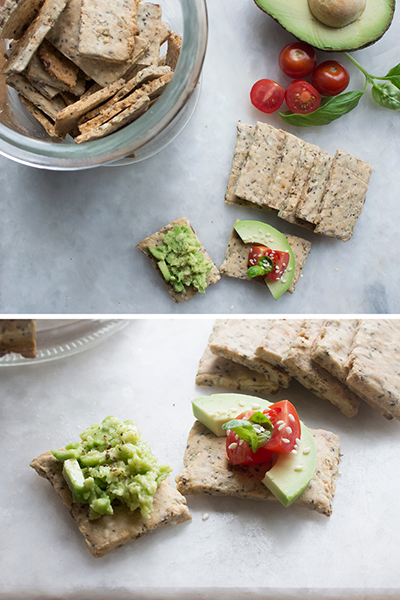 Theses grain free crackers are a fantastic nutritious snack. Enjoy plain or with your favourite topping. Makes 40 crackers
Ingredients
2 TB chia seeds
1 TB flaxseeds
¼ cup filtered water
¼ cup walnuts
¼ cup pumpkin seeds
2 cups ground almonds
¼ cup sesame seeds
1 egg, beaten 1
1 tsp chilli flakes (more if desired)
½ tsp dried thyme
½ tsp garlic powder
½ tsp Pink Himalayan salt
Method
Pre-heat oven to 180 degrees Celsius; set to fan bake and line baking tray with baking paper 2. In a small bowl combine chia seeds, flax
In a small bowl combine chia seeds, flax seeds and ¼ cup water and soak for approximately 10 minutes until mixture reaches a jelly-like consistency
Meanwhile, add walnuts and pumpkin seeds to a food processor and blitz to medium-sized crumbs
Transfer to a large mixing bowl and add all remaining ingredients. Combine with a spatula, then kneed until the mixture forms a dough
Place the dough between 2 large pieces of baking paper and roll out until an even ½ centimeter thickness (or less – the thinner the crunchier) is achieved
Once rolled, using a knife cut the dough into individual crackers roughly 2cm x 4cm in size
Bake until golden brown for approximately 20 minutes
— Recipes by Lena Fisher – Holistic Nutritionist and HealthPost Staff Member


About HealthPost
HealthPost is NZ's favourite natural health & superfoods store. Browse our amazing collection of organic products, superfoods, healthy drinks & more to make your food delicious and highly nourishing.