It is more challenging at this time of year to maintain our normal levels of wellness. It can be common to require more immune support to maintain our everyday health, including children to help strengthen & and aid their general well-being.
Beating Those Winter Ills & Chills
Winter-time often brings with it a natural rise in the ills & chills going around. As we go into the colder months of the year, children are especially prevalent in catching the circulating ills & chills. It is common to experience an extra need for respiratory, throat & lung support in winter. Constant exposure in school or day-care, stress and our daily environment are all factors challenging our overall immunity.
Naturally Supporting Immunity
A healthy immune system is vital for protection against any ills & chills we may encounter throughout wintertime or at any other time of the year.
Supporting immunity naturally with beneficial immune strengthening herbs and nutrients can help to provide support in times of extra demand that often occur in the colder months.
Effective Nutrients
Clinically researched Wellmune® is an extract from the nutrient rich Saccharomyces Cerevisiae commonly known as Baker's yeast. Wellmune® contains a high level of Beta- Glucans, this active ingredient is well-known for its beneficial immune properties. Wellmune® has shown to help boost the immune system, helping support less days off day care & school.
Vitamin C is well-known used for helping provide optimal immune function and powerful antioxidant support in the body. Because Vitamin C is not naturally produced by the body, we may need additional support in times of extra need. By using supplements or vitamin C rich food, we can help to restore adequate levels to aid immunity.
Zinc is a vital mineral for daily immune support and function. Our bodies require zinc to help support skin health and it's also an important part of the normal immune recovery process.
It's often a combination of what we do on a regular basis to help support immunity that will help us and our families the most during the winter months.
TAPS PP2337
Good Health Viralex® Kids Immune Chews with clinically researched Wellmune® are specially formulated to support children's immunity. Buy online from our secure online store.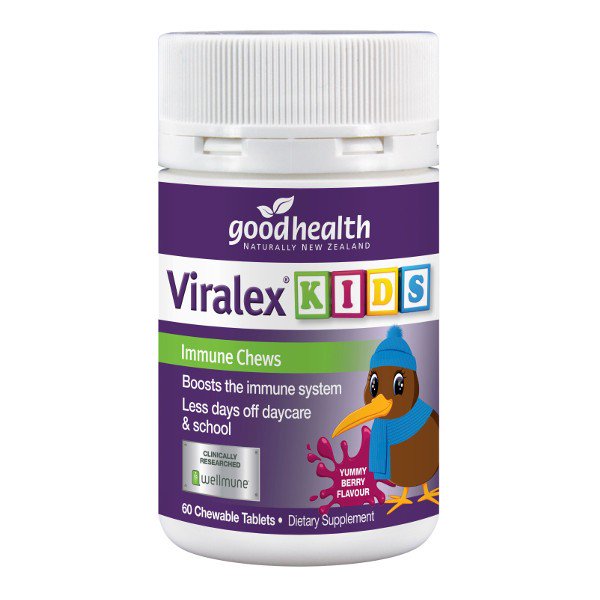 ✓ Delicious berry flavour
✓ Easy to take, chewable format – designed with fussy eaters in mind!
✓ No artificial colours, flavours, sweeteners or preservatives
✓ With clinically researched Wellmune®, zinc and vitamin C to support immunity.
Always read the label and use as directed. If symptoms persist, see your healthcare professional. Good Health, Auckland.