For those with an active lifestyle, especially sports people, it's important to consider post-workout recovery. Endorsed by the likes of athletes such as Richie and Gemma McCaw, turmeric is the new star of the sports world. It's ability to support the body after a workout, soothing tired muscles and stiff joints, makes it the perfect supplement for sports people, as well as anyone who wants to maintain an active lifestyle.
Turmeric has well and truly earned itself an impressive reputation in recent years. It has good reason to hold a top spot as a supplement, as the many health benefits of turmeric are hard to ignore. One of turmeric's unique qualities is its broad supporting ability to help with our overall and everyday health.  Turmeric contains the powerful antioxidant curcumin, this is the most researched and known active ingredient within turmeric.
Antioxidant Support
Curcumin is largely responsible for turmeric's ability to help support our well-being and overall health in many ways. For one, curcumin offers antioxidant protection, and has a unique ability to support muscle stiffness and body recovery.
Antioxidants such as curcumin, help us by supporting against free radical production and oxidative damage, and aid our bodies response to exercise stress and recovery. Turmeric's vibrant orange colour helps give away its potent antioxidant ability, and in fact it is believed to have over 13 times more antioxidants than one of the most well-known superstars of the antioxidant world, blueberries.  Antioxidants can often be hard to maintain by just diet alone and there are so many other factors that contribute to free radical development in the body. Our diet, lifestyle, exercise and stress all contribute to free radical production, so finding ways to optimally support this normal process helps to further support our overall health.
Other Health Benefits
As well as providing antioxidant protection, curcumin also provides immune support, encouraging a healthy immune system and immune response. Additionally, curcumin helps to support overall joint and digestive health, as well as a healthy cardiovascular and nervous system. Those with stiff and tired joints due to high impact sports, or simply the general wear and tear that comes with age, may benefit with curcumin's extra support.
TAPS No: PP1987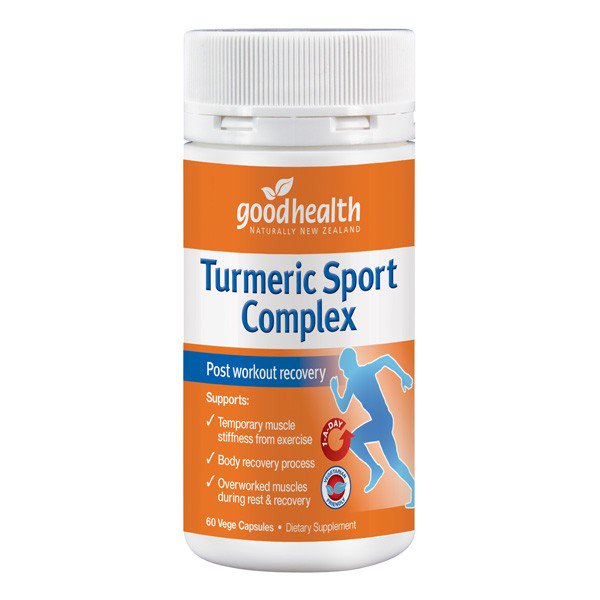 Good Health Turmeric Sport Complex is a synergistic formulation ideal for all athletes and recreational sports, supporting overworked muscles during the rest and recovery phase. Buy it now from our secure online store.