Our Good Ingredients Promise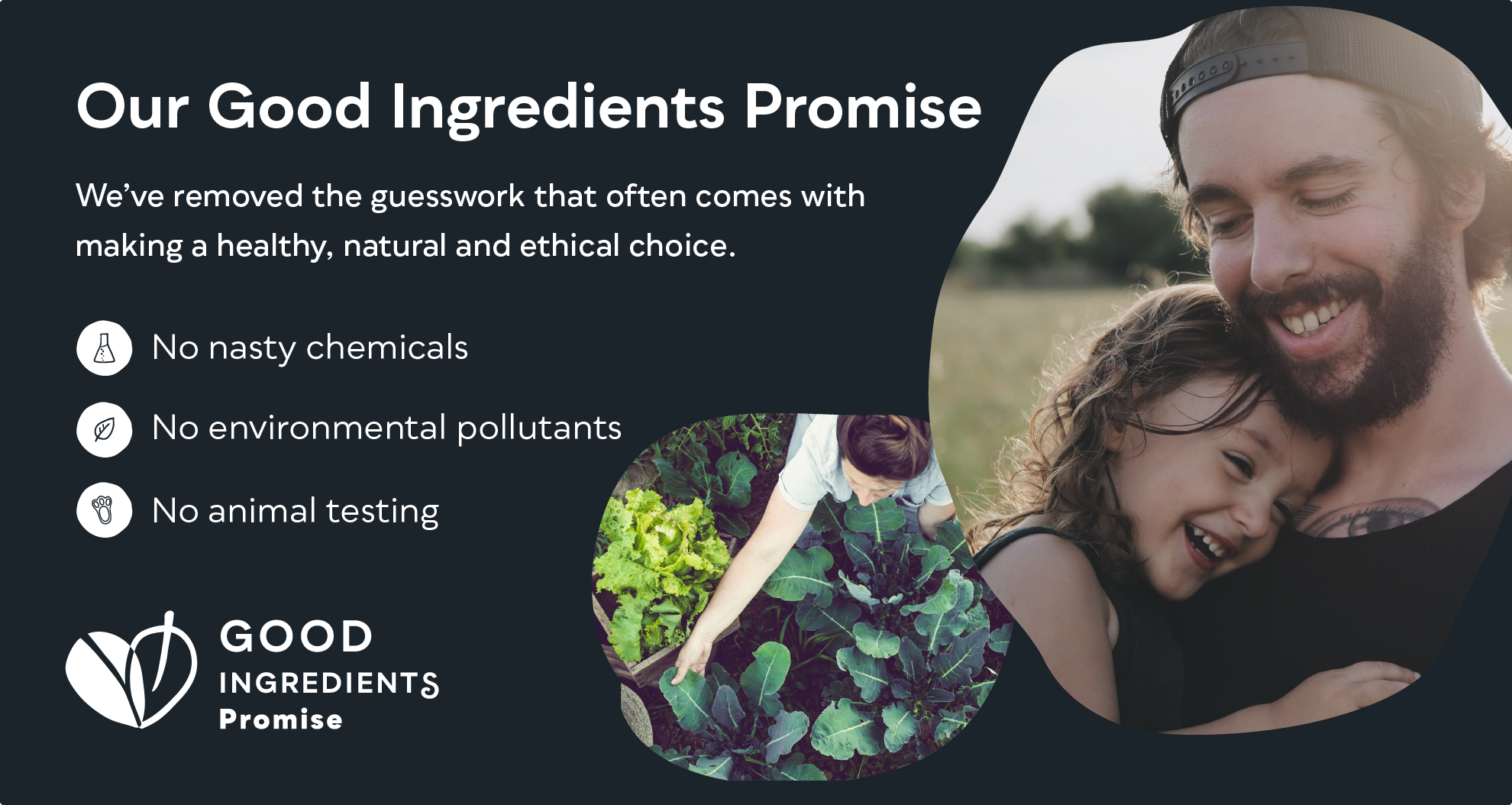 With so many options and a lot of 'greenwashing' these days, trying to choose a natural product can be confusing.
How do you know if you're making the right choice for you and your family's health? Not to mention the health of our precious planet.
Our Good Ingredients Promise removes the guesswork, so you always know you're making a better choice.
Our range of Good Ingredients Approved natural products are free from any harmful chemicals or activities that don't meet our strict criteria for what a truly natural product should be.
Yep, that means no nasty chemicals, no environmental pollutants, and no testing on those cute little bunnies. Just better choices, for you and the world.
Our Good Ingredients Approved products are free from these ingredients.
We're continually researching ingredients to provide the highest standards to you. Our Red List contains ingredients that, in our view, are proven to have negative impacts on human and/or environmental health. You can be sure our Good Ingredients Approved products are free from these ingredients:
No animal testing
No BHA or BHT
No harmful chemical UV absorbers
No DEA, MEA, TEA
No DEET
No formaldehyde or formaldehyde
releasing preservatives
No High Fructose Corn Syrup
No plastic microbeads
No parabens
No triclosan
No propylene glycol
No SLS or Coco Lauryl Sulfate (except in some natural hair
lighteners. Learn more)
What's not Good Ingredients Approved
We do our best to source the cleanest and most natural products available. When it comes to some products like nail polish and hair dyes however, finding a truly natural product that ticks all the boxes, at this stage, isn't possible. The way we see it, is that it's not about being perfect, but having options available to allow you to make better choices. While nail polish and hair dyes aren't Good Ingredients Approved, you can be sure that these exceptions are in our view, are the most ethical and the closest to natural available.
Hair dyes are an exception to our Red List, as there are simply no 100% natural and effective options available. As an occasional use product, we choose to stock Tints of Nature dyes as we believe these are the cleanest and most ethical hair dyes available. Tints of Nature dyes are 100% free of ammonia, resorcinol, parabens and hormone disrupting phthalate fragrances. They do however still contain MEA, PEGs and Sodium Lauryl Sulfate (in lightening products only) which are otherwise on our Red List. For a 100% natural hair colour option, check out our pure Henna plant powders. We highlight this so you're aware and have a choice. For more info, read the What You Need to Know About Natural Hair Dyes article on our blog.
We've chosen to stock Hanami nail polish as an exception to our Red List. When it comes to nail polish, finding a completely natural and effective option is not possible. Most are packed with toxic chemicals such as toluene and formaldehyde, which are known to have negative effects on human health. After extensive research, we found the Hanami range to be one of the cleanest brands available on the market today. Hanami nail polish is '10-free', meaning they are free from dibutyl phthalate, TPHP, toluene, xylene, ethyl tosylamide, camphor, formaldehyde, formaldehyde resin, parabens, and tert-butyl hydroperoxide. They do however contain N-butyl alcohol, a fragrance ingredient in their nail polish, as well as propylene glycol, PEG40, and DMDM hydantoin in their polish removers.
Along with ingredients, values and ethics of a company are an important factor we always take into consideration. Hanami are cruelty free, vegan, and PETA certified, as well as non-toxic and water permeable. While Hamani is not 100% natural, we believe they offer a better choice not only for our health, but our planet too.
We choose not to stock products that contain 'first generation' artificial sweeteners, including:
Aspartame (951)
Cyclamate (952)
Saccharin (954)
From our extensive research, there wasn't sufficient evidence to restrict 'second generation' artificial sweeteners. Therefore, we do stock products that may contain these artificial sweeteners, including:
Acesulfame K (950)
Sucralose (955)
Neotame (961)
If you want to avoid artificial sweeteners altogether, you can shop our Artificial Sweetener Free range.
As part of our Good Ingredients Promise, it's important to us that we set criteria that will guide our product range on the level of sugar contained in each product.
Sugar is an increasing issue in our modern world, with many non-communicable diseases being caused or associated with modifiable risk factors like diet and exercise. Sugar is hidden in many foods that appear healthy, making it difficult for even the most discerning consumer to keep their daily added sugar intake under World Health Organisation recommendations.
'Free sugar' is the sugar that is added to foods for flavour, and fruit juices/syrups/honey. It does not include the sugar that is intrinsically found in natural foods like whole fruit and vegetables, and non-processed dairy products.
In 2015, the World Health Organisation set guidelines for sugar intake based on weighty evidence with the objective of helping to reduce the risk of non-communicable diseases by a reduced intake of sugar.
The overall recommendations are that free sugar should be less than 10% (50g/12 teaspoons), but if possible to less than 5% (25g/6 teaspoons) of the total diet intake for adults.
To give some context, an average supermarket 30g muesli bar contains anywhere from 5 – 15g (1-4 teaspoons) of sugar per bar, which, shockingly is not much different to a serving (25g or 4 squares) of Cadbury Dairy milk chocolate which contains 14g (3.5 teaspoons) of sugar.
We have devised a Sugar policy based on NZ and international guidelines to assist with better choices for customers when it comes to supplements or every day foods, where sugar may be hidden. We will only stock products that meet these guidelines:
Item
Maximum Sugar

15g per 100g if added sugar. 17g per 100g if only fruit/honey used as sweetener.

Gummies / chewable supplements

30g per 100g unless no added sugar, then 40g per 100 g but must have a minimum of 10g per 100g of fibre

5gm added sugar per 100gm
8gm total sugar per 100gm

This policy does not include:
Honey, because it is a food that is eaten in small amounts
Sugar products, for example coconut sugar
Chocolate, chocolate covered products, and chocolate drink mixes are excluded as these are 'treat foods' which should be eaten appropriately
Lozenges, because sugar is required for the creation of a hard lozenge. These should not be over-consumed, and instead with awareness of the sugar content.
Syrups, because sugar is required to create a syrup. These should not be over-consumed, and instead with awareness of the sugar content.
OUR MARINE SUSTAINABILTY POLICY
Caring For Our Marine Life:
Over-fishing is a major concern at a global level. We guarantee that every product we sell meets our specific environmental and ethical standards. That means:
We only sell marine omega products certified by credible international marine sustainability groups*
We only work with brands helping to ensure marine sustainability
As a result, all fish and krill products we sell meet specific sustainability standards
*We only sell marine omega products certified by the following International Marine Sustainability Groups:
Friends of the Sea (FOS)
Marine Stewardship Council (MSC)
The Global Standard for Responsible Supply (IFFO RS)
To learn more about our external investigation into marine sustainability, credibility of certifiers and the state of krill, read the article on our blog.
We're continually reviewing our Red List based on new research and understanding – we expect to update this over time as we strive for constant improvement. We also rely on our supplier partners regarding correct reporting of ingredients and processes, so we can make informed decisions about which products meet our Good Ingredients Promise. We take this seriously, and have made every effort to ensure our products meet the standards we've outlined.