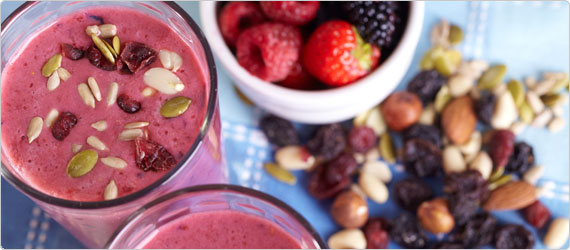 Super-food smoothies are the super-stars of the health food world right now. Just jump on instagram or facebook and you'll see a myriad of concoctions being whipped up by healthy foodies. Most of us have a hard time fitting in the daily recommended portions of fruits and vegetables that we need for optimal health (move over 5+ a day… the recommendation is now 7+!). Smoothies can bump up your servings in no time and naturally, bump unhealthy beverage choices to the curb at the same time!
Some health benefits of including super food smoothies into your diet include;
Detoxing & Alkalizing
Because of their high fruit and vegetable content, smoothies can help to alkalize the body. Increasing alkalising foods in the diet is said to help enhance our immune system. Adding Spirulina (which is packed with chlorophyll) can be detoxifying because it helps to alkalize our system and rid toxins we acquire from the food we eat and the environment.
Better Digestion
Smoothies are generally packed with fibre which helps to flush out the colon and 'keep things moving'. High in fruit and vegetables, they're loaded with enzymes to help optimize digestion. The blending process itself further increases digestibility.
Clearer Skin
Smoothies are high in fibre, allowing the body to eliminate toxins through the liver, kidneys and colon instead of the skin. When your colon is backed up and your liver is not working properly, the body detoxes through the skin. Helping to move things through your body will eliminate this problem and allow your skin to glow!
Mental Clarity & Focus
Replacing morning coffee rituals with super food smoothies can help you feel greater alertness, energy, and help reduce any nervous energy you may suffer from as a result of too much caffeine. Smoothies made with bee pollen and banana can also naturally help with concentration as they are high in B vitamins and potassium which nourishes the nerves and the functioning of our brain.
Antioxidants
Antioxidants and phytonutrients are abundant in many super foods. Antioxidants help protect the body from disease and illness and also repair and prevent DNA damage from free radicals.
Increased Energy
Smoothies are packed with vitamins and minerals, and are digested easily. Easy digestion means plenty of energy left for other things!
Below is a delicious smoothie recipe that includes a simple blend of super foods…
Spirulina Super Food Smoothie
Ingredients:
Directions:
Place all ingredients into a high-speed blender and whizz until well combined. Enjoy!
Article by Renée Leonard-Stainton, Naturopath & Nutritionist
Renée Naturally – www.reneenaturally.com
HealthPost stock a range of healthy and delicious Superfood and Organic products many of which are a perfect addition to smoothies.