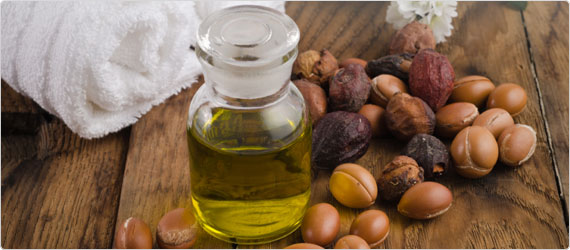 Argan Oil is currently enjoying worldwide popularity for its restorative and anti-ageing effects on your skin, nails and hair. Both traditional herbal lore and modern scientific research into this highly valued Moroccan oil highlight its nutrient and therapeutic properties. Since ancient times North African women have relied on Argan oil to nourish their skin and hair against the harsh drying effects of the desert sun and winds. It is also used as a treatment for skin diseases. They apply the oil topically and eat it with bread or mixed with almonds and honey.
Argan Oil comes from the kernel of the Argan tree (Argania spinosa), an 80-million-year-old relic tree that was known to the Phoenicians. Once found throughout North Africa, it was declared rare and endangered in the last 100 years, but due to popularity of Argan oil around the world, the trees are not only protected, but many more being planted to support the export business.
As well as providing funds to re-build the forest, argan oil production is helping to achieve important social, economic and environmental goals for the people of Morocco, who are part of an inclusive cooperative programme of sustainable development that is both thinking globally and acting locally for mutually beneficial outcomes.
The local Berber women of the Argan forest region work in a profit-sharing fair trade union of cooperatives as the predominant harvesters and producers of Argan oil. The cooperatives also assist by providing for their health care, education and improved working conditions. Many of the husbands of these women are away at long distances for work, sometimes for 9 months of the year, so this growing industry is supporting women to be able to provide income for their family.
Every part of the argan nut is used – the shell makes firewood, the husk is fed to goats, and the seed is turned into the high-quality oil.
What are Argan oil's special properties?
Growing wild in this very arid climate on the edge of the Sahara Desert, the Argan tree has adapted over millions of years to drought and the harsh conditions of the semi-desert scrublands it inhabits. It grows very slowly but is extremely resistant and can live to more than 200 years old. The kernel of the Argan tree packages these abilities in its rare concentration of active nutrients designed for maximising hydration and resilience.
Argan oil contains unusually high levels of Vitamin E (tocopherols) and essential fatty acids (including Omegas 3, 6 and 9) plus several other important antioxidant compounds. These combine to condition and revitalise damaged hair, penetrating the hair shafts, roots and pores to nourish and hydrate while repairing the cellular membrane. Damage done by overuse of hair styling products can be helped with Argan oil. Dry hair and scalp, split ends and dandruff are all indications for applying Argan oil treatment.
The combined oxygenating, hydrating and elastifying effect Argan oil's nutrients have on the skin have given it a reputation as an anti-ageing treatment. It has scar healing properties and can help relieve skin conditions such as psoriasis and eczema. Weak or brittle nails can also be strengthened with Argan oil.
Research studies have mostly focused on the health benefits of taking Argan oil orally and support for skin from the inside out, as well as for heart health and inflammation.
With such a range of important health benefits emerging from preliminary research, other potentially effective medicinal applications for the Argan tree's nutrient rich oil can be anticipated as the scope of studies is widened.
We'd Love Your Feedback
Have you tried argan oil?
What effect has it had on your skin, hair or nails?
Are there other skin or beauty oils which you've found more or less effective?