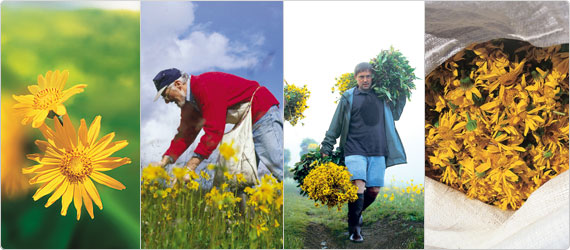 For centuries, nature's little yellow flower known as arnica has been used in liniment and ointment preparations to successfully treat bruises, muscle pains and strains.
Today, because of its ability to relieve and restore complaints from bruising and muscle tightness to inflammation and sprains, arnica is often referred to as 'the patron saint' of muscles and bruises and is a must for every first aid kit and sports bag.
Arnica's healing properties
The European mountain flower Arnica montana, comes from an important medicinal plant family, the Compositaes, which includes chamomile, calendula, echinacea, dandelion, chicory and yarrow. All of these plants are well known for their anti-inflammatory qualities and properties. However the plant's power also lies in the many substances that make up its flowers.
A German study identified arnica's active ingredients as sesquiterpene lactones, mainly helenalin and its derivatives which can positively affect the inflammatory pathways in the body. Helenalin known to inhibit blood clotting and can improve the flow of blood around the body, which can in turn reduce bruising and inflammation.
How do you use arnica?
Arnica can be used topically as a cream, ointment or gel, or orally in the form of a spray or pilules. For treating sore muscles, bruising and swelling, it is more common to use the topical arnica preparations and it is not advisable to use arnica on broken skin. When purchasing arnica, ensure the cream or ointment is comprised of at least 15 percent arnica oil. The higher the percentage of arnica contained in a preparation, the more effective it will be.
Can anyone use arnica?
The wonderful thing about arnica is that everyone can use it, including children, so all of us can benefit from its soothing relief.
Sore, aching or sunburnt? Arnica to the rescue!
Because of its anti-inflammatory, analgesic and anti-bacterial properties, arnica can treat a variety of ailments. It is commonly used to treat and relieve insect bite skin inflammation, swelling, bruising and muscle aches. But it is also effective in treating many other complaints including arthritis, carpal tunnel syndrome, influenza, headache, migraines, fibromyalgia and eczema. Many of us suffer from back pain and joint problems – applying arnica can help relieve the symptoms and reduce pain and inflammation.
Soothing and healing on our skin, an Arnica-based gel or cream is also effective alleviating the stinging sensation associated with sunburn. And it's also found to be useful in reducing post-operative swelling and assisting the body's recovery after medical procedures.
Feeling black and blue?
We all suffer from bruising now and then, and small bruises are not normally dangerous alone. But in some cases, bruises can be more serious and may lead to other more severe forms of hematoma, especially when associated with injuries such as fractures. Arnica is effective in helping relieve the pain of bruising and assisting the body to reduce inflammation.
In the sports bag
Treating muscles with chemical-free arnica gel before and after training or exercise can provide an additional level of injury protection, supporting the body's natural healing response to the swelling of strained and sprained tissue and muscles. Arnica massage oil is ideal for pre- and post-training or exercise to help avoid injury and restore tired aching muscles.
Sprains and strains are commonplace in the gym, on the sports field or even in the garden! As well as utilising the RICE (Rest, Ice, Compression, Elevation) method to deal with the early stages of a sprain, applying arnica works as first aid to minimise damage to tissue after injury.
By Sarah Thornton for Weleda
Weleda Arnica Gel and Cream are a traditional herbal products that support the body's healthy recovery from bruising, sprains and strains of muscles.
We'd Love Your Feedback
What product do carry in your sports bag for bruises, sprains and strains?
Have you used an Arnica based product, and if so what were your experiences?