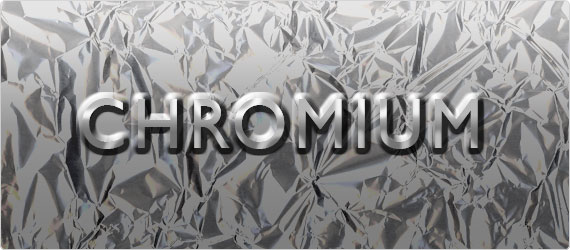 What is Chromium?
Chromium is an essential trace mineral needed by the body to metabolise carbohydrates, protein and fats. Chromium caught the attention of health researchers in the 1950's who were studying its benefits in managing glucose levels and insulin (1).
What is the role of Chromium in the body?
Chromium is part of a nutritional complex called glucose tolerance factor (GTF). It acts in a number of ways to influence insulin, a hormone produced in the pancreas. Insulin plays a vital role in getting glucose (blood sugar) inside the cells of the body.
Chromium helps to manage a healthy body weight because it can be taken to help reduce the temptation for a morning or afternoon sugar 'fix'.
Chromium benefits heart health where it may help to maintain healthy cholesterol levels.
Which foods contain Chromium?
Chromium is found in trace amount in foods, some of these include:
Brewer's yeast
Wholegrain bread and cereal
Brown rice
Cheese
Eggs
Bananas
Spinach
Green Beans
Mushrooms
Broccoli
What is the recommended amount of Chromium daily?
The NZ Ministry of Health Nutritional Guidelines (2) recommend the following daily adequate intake of elemental Chromium is:
Men: 35µg
Women: 25µg
Could I be low in Chromium?
The typical Western diet high in sugar and refined carbohydrates may increase the need for Chromium. In fact, diets high in simple sugars have been found to increase Chromium losses up to 30-fold (3). Excessive exercise, infection, and physical trauma or prolonged periods of stress can also increase the need for Chromium by the body. Certain medications such as corticosteroids, which are prescribed in common condition such as arthritis, asthma, can also increases urinary losses of Chromium.
What are the signs and symptoms of a Chromium deficiency?
Unstable blood glucose levels – e.g. hyperglycemia and hypoglycaemia
High levels of bad Low-Density Lipoprotein (LDL) cholesterol and low levels of good High-Density-Lipoprotein (HDL) cholesterol
Weight gain
Sugar cravings
How does Chromium support healthy blood glucose levels?
Chromium influences blood glucose levels in a number of ways, some of these include:
Supports insulin sensitivity
Aids the transport of glucose into the cell
Enhances the action of insulin
Improves the ability of insulin to bind to the cells
Chromium is essential for maintaining cellular insulin sensitivity. Without sufficient Chromium, glucose doesn't get inside the cell, leading to a condition known as insulin resistance. There is a link between low Chromium levels and the incidence of Type 2 Diabetes Melltius(4).
Chromium has shown to inhibit the release of an inflammatory chemical called TNF-alpha which reduces the body's sensitivity to insulin(5). It also helps to both improve the ability of insulin to bind to cells and can increase the number of insulin receptors(6).
How does Chromium assist blood cholesterol levels?
Chromium can help to lower 'bad' Low-Density Lipoprotein cholesterol levels (7) making it important for heart health.
How does Chromium support weight management?
Chromium helps to support a healthy body weight through its action on helping to manage sugar cravings. It is also helpful for Polycystic Ovarian Syndrome (8) and Syndrome X (9) (Metabolic Syndrome), both of which can involve weight problems.
By Eve Storer-Blake BHSc, ND, Dip Med Herb
Vitaco Naturopath
Nutra-Life Chromium Picolinate is a well absorbed form of chromium that provides 50ug of elemental chromium per capsule for carbohydrate and fat metabolism. It is available for secure order from our online shop.
We'd Love Your Feedback
Have you tried a chromium supplement? If so, what benefits were you hoping for and did you experience them?
References:
(1) Braun, L., Cohen, M. 2010. Herbs and Natural Supplements: An evidence-based guide, 3rd edition, pg.320
(2) NHMRC, 2006, Nutrient Reference Values for Australia and New Zealand, pp.166
(3) Braun, L., Cohen, M. 2010. Herbs and Natural Supplements: An evidence-based guide, 3rd edition, pg.321
(4) Hummel, M et al. Chromium in metaboli
(5) Braun, L., Cohen, M. 2010. Herbs and Natural Supplements: An evidence-based guide, 3rd edition, pg.321
(6) Braun, L., Cohen, M. 2010. Herbs and Natural Supplements: An evidence-based guide, 3rd edition, pg.321
(7) Riales, R., Albrink, M.J. Effect of chromium chloride supplementation on glucose tolerance and serum lipids including high-density lipoprotein of adult men. American Journal of Clinical Nutrition. 198;34:2670-2678
(8) Lucidi, R.S. et al. 2005. The effect of chromium supplementation on insulin resistance and ovarian/menstrual cyclicity in women with polycystic ovary syndrome. Fertility and Sterility. 84 (Suppl 1): S427-8
(9) Braun, L., Cohen, M. 2010. Herbs and Natural Supplements: An evidence-based guide, 3rd edition, pg.324