We asked food writer and blogger at Bonnie Delicious, Kelly Gibney, to share some inspiration on making delicious raw chocolate.
Is there any better gift than chocolate? Maybe, but it's pretty hard to beat! To make it even more special, consider gifting your loved ones (or yourself!) a collection of gorgeous ingredients to create decadent but oh-so-good-for-you raw chocolate. This delicious treat is very different to supermarket bought chocolate, packing a nutritional punch as well as tasting incredible.
Lets start with a quick rundown of the superstar ingredients you'll need and why I love them.
Bio Balance Organic Raw Cacao Powder
Far superior to regular processed cocoa powder, raw cacao is rich in antioxidants and also magnesium, a powerhouse essential mineral that among a host of other incredible benefits promotes relaxation.
Bio Balance Coconut Sugar
Made from the dehydrated sap of the coconut palm, this low GI sweetener retains all of its natural minerals making it a more wholesome choice. It has a lovely light caramel flavor.
Bio Balance Organic Coconut Oil
Coconut oil gives the wonderful richness and smooth texture to the raw chocolate. This healthy oil is anti-bacterial, anti microbial and high in lauric acid which promotes immunity.
Cacao Nibs
With all the benefits of raw cacao, raw cacao nibs add a rich, chocolatey crunch. Perfect in raw chocolate recipes or eaten by the handful!
Basic Raw Chocolate Recipe
The beauty of this recipe is that it is incredibly simple and versatile. Once you've made it once you'll be off and running with fun (and delicious) versions of your own.
½ cup Bio Balance Organic Coconut Oil
½ cup Bio Balance Organic Raw Cacao Powder
2 tablespoons Bio Balance Organic Coconut Sugar – ground to a fine powder in a spice grinder, high speed blender or mortar & pestle (add more sugar to taste)
Pinch sea salt
1 teaspoon good quality vanilla essence
½ cup Raw Cacao Nibs (optional)
Place the coconut oil in a saucepan over a very low heat. Let the oil become liquid before removing from the heat.
Place the melted oil and all remaining ingredients into a blender and blitz until well combined. Ensure the sugar is completely dissolved.
Pour into silicon chocolate moulds, small paper party cases or onto a tray lined with baking paper.
Sprinkle with raw cacao nibs (if using) and place in the freezer until set.
Store in the fridge or freezer.

Other Tasty Raw Chocolate Ideas
I've been playing around with some ways to take your raw chocolate making to the next level and below are my two favorite twists on the basic recipe.
Raw Chocolates filled w/ almond butter
The combination of raw chocolate and almond butter is irrestible and these gorgeous chocolates are so much easier to make than they look. You will need silicon chocolate moulds which will be available from all cookware stores. This recipe will make enough for 12 chocolates.
Make your raw chocolate mix as per the basic recipe.
Fill each silicon cup 1/3 full with raw chocolate. Place in the freezer for 1 hour to set.
Use a small teaspoon to place a small amount of almond butter inside each cup. Take care to make sure the almond butter only sits in the centre. Leaving the sides clear to be filled with chocolate.
Use the remaining raw chocolate mixture to fill the cups to the top. If the raw chocolate mixture has become solid you can very gently heat (over a very low heat) until liquid. Place chocolates in the freezer until set.
Store finished chocolate in the freezer or fridge.

Raw Chocolate Bark w/ Goji Berries & Pistachios
I love the rustic beauty of this raw chocolate slab. It looks great broken into rough pieces and speckled with pretty berries and nuts. You can add any dried fruit or nuts that you enjoy.
Make your raw chocolate mix as per the basic recipe.
Pour into a small slice tin lined with baking paper.
Sprinkle with ¼ cup goji berries and ¼ cup roughly chopped pistachio nuts.
Place in the freezer to set.
Use your hands to break into pieces. Store in the freezer or fridge.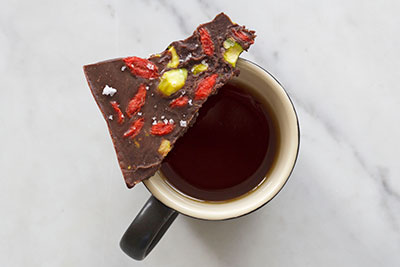 Other Fun Ways To Use These Ingredients
Add sweetened raw cacao nibs to your favourite granola or trail mix recipe.
Sprinkle nibs on top of a smoothie.
Use the raw chocolate recipe as a sauce to top ice cream or fresh berries.
Dip bananas into the raw chocolate and place in the freezer to create a creamy and wholesome treat.
Important to Note: Cacao is a powerful superfood so should be enjoyed in moderation especially by children.
AND
Your finished raw chocolate loves being stored in either the freezer or fridge. You will have a mess on your hands if you leave it at room temp for too long!
This blog is written by Kelly Gibney, a freelance food writer, stylist and photographer based in Auckland. For more articles & recipes that involve wholesome real food, check out her blog: bonniedelicious.com
Special mention for the Golden Bay raw food goddess Sarah Tarrylea who developed the BioBalance raw chocolate basic recipe. More on her rawlicious lifestyle here: livinglifemore.com
We'd Love Your Feedback
Do you have any delicious raw chocolate recipes you would like to share?
What's your favourite chocolate and why?