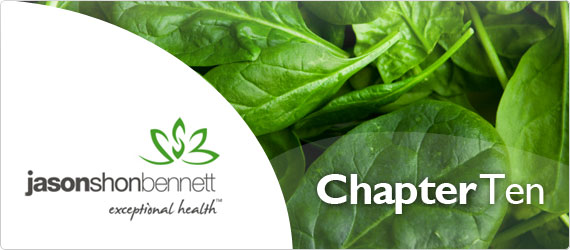 My 20 Golden Rules

Chapter 10 is simply a full summary of what we have learned, where we have gotten to, what it all means, how to bring in this knowledge into your daily life, tips, tricks, solutions, answers and most of all: Tracey's stunning recipes.
There is an intro covering wisdom from around the world, cultures and what commonalities they share and then we get straight into My 20 Golden Rules.
I break each rule down into a one-line saying, and then extrapolate it so you understand exactly why it is so important. The different rules have been sprinkled throughout the book. This illustrates and clarifies each part of the book (around 2 Golden Rules per chapter) so it all ties in and makes sense at the end.
We then end the book on the 31-Day Plan.
This takes you through 31 days of what to do each day to transform your health, including:
Sleep
Exercise
Breakfast
Lunch
Dinner
Snacks
Drinks
Desserts
Routines
Tips, tricks and easy solutions
There is a full month of our delicious tried-and-tested recipes for each day – for 31 days. These recipes were trialed and honed on four years of participants' in our unique 12-month mentoring program. This has been incredibly success at transforming people's lives in New Zealand, Australia, the UK and the US. This gives you a plan to follow for 31 days covering everything you need to do – in simple easy steps – take on as many as you like in your own time – to transform your health.
That's it.
Stay Well,
Jason

Please feel free to share this article (Jason Shon Bennett – Chapter Nine) with your friends or leave a comment below.
To learn about Jason's personal 12-month mentoring program please go to www.jasonshonbennett.com.