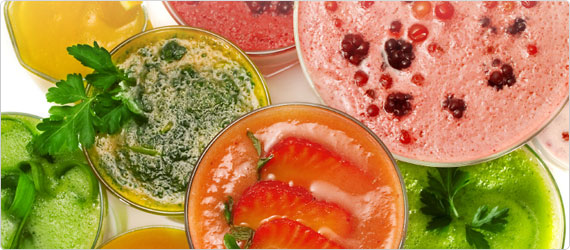 Food, Glorious Food!…it's simply how our bodies get nutrition. By enjoying raw fruit and vegetables in a daily smoothie we maximise our nutritional intake to ensure our body is fuelled and fit and ready for any challenge.
Green Smoothie, Fruit Smoothie, Breakfast Smoothie, Protein Smoothie, Easy Smoothie, Weight Loss Smoothie…tell us how you like it and we'll publish your recipe on this page.
If you need Certified Organic Spirulina Powder, Certified Organic Maca Powder, Certified Organic Coconut Oil or Organic Chia in your smoothie now, you can purchase them from our secure online shop by clicking on the links.
Enter your smoothie recipes
[polldaddy type="iframe" survey="2903607BC9705757″ height="auto" domain="healthpost" id="biobalance-smoothie-recipe-blog"]
---
Your smoothie recipes:
Green Smoothie by Maree W.
handful spinach leaves,
handful blueberries,
half cup oats,
tsp LSA,
Chia seeds
flaxseed oil
3 tabs plain unsweetened yoghurt
banana
half cup ice cold water
blend & enjoy – Yum!
---
Berry 'nana by Claire W.

Ice
skim milk
creme fraiche
boysenberries
banana
---
Coconut Fruity Smoothie by Sue B.

1 cup Lite Coconut Milk
2 tsp spirulina powder
2 kiwifruit
1/2 cup pineapple juice
2 small bananas
1 cup fresh cranberries.
Mix together and enjoy. Very tasty and filling
---
Melnote special by Melanie H.

Kefir milk or plain unsweetened yoghurt
banana
kiwifruit
mixed berries (frozen if out of season)
sunflower seeds
pumpkin seeds
chia seeds
ground linseed
spoon of coconut oil
Blend together and enjoy!
---
Cocoa Bliss by Manasi G.

1 cup Almond Milk or Oat Milk
1 cup Purified Filtered Water
1 tbsp Raw cacao powder
1 tbsp Carob Powder
1 Banana
¼ Avocado
Handful of tender baby Spinach leaves
1 tsp Maca Powder
¼ tsp Ground Cardamom
¼ tsp Cinnamon
Pinch of Celtic Sea Salt
Few drops of Stevia or 1 tsp Agave Syrip/Honey
Some ice cubes to make it nice fluffy
Blend all ingredients in a high powered blender and enjoy!
---
Manchia by Brenda T.

1 pottle plain greek yoghurt
1 tin of sliced mangoes in natural juice or a sliced fresh mango
a cup of pineapple juice
2 tablespoons of chia seeds
3 large ice cubes
Blend Well, will be enough for 2 people for breakfast smoothie or anejoy any time of the day.
---
Creamy thick fruit smoothie by Prue M.

1 banana
1 cup frozen berries (best when in season as alot more flavour)
1/4-1/2 of avocardo (depends how creamy you want it)
1/2 cup natural yogurt
1/2 cup of trim or soy milk
Extra additions is to add a tablesppon of LSA powder, or can add fresh mango or tamarillos when in season espeacially if making several serves. ENJOY!!!
---
Green Goddess by Yvonne L.

bunch of italian parsley
bunch of winter lettuce
some mallow leaves, (or anything green really)
chop up with knife reasonably small then put in blender with 1 organic raw egg
Leave blender on and add 1 ripe banana, some chia seeds and bee pollen (softened in a little water), some spirulina (about 1/2 tsp), 1tsp honey, 1/2 cup good organic yoghurt
A yummy way to chow down those raw greens at a time of day you may not normally like to eat them!
---
Gab's up and go by Gabrielle F.

200 ml rice milk
2 scoops of Nutra-Life Bodyshape – Women's Toning Formula
2 tea spoons of LifeStream, Essential Greens+
2 tablespoons of frozen blueberries
Blend together and enjoy!
---
Breakfast smoothie by Ana S.

1 can coconut milk/cream
1 can water (wash the can clean before recycling)
1 banana
1 pear or apple
1 kiwifruit
4 Tblspns LSA
4 Tblspns protein powder
2 Tblspns lecithin
Fruit can be water ever you have at the time.
I use lecithin because my husband and I have high cholesterol.
This keeps us fuelled and satisfied until lunch.
---
Spirulina Saver by Francie H.

2Tsp Blueberries
1 Banana
1c spinach/kale
3Tsp plain low-fat yoghurt
1tsp spirulina
1/2 – 3/4c water
Put in a blender, and have for breakky!!
---
Powerhouse Smoothie by Robin H.

2 T ground linseed
2 T chia seeds
1 T Maca Powder
1/4 t cinnamon
1 T coconut oil
1 c mixed berries
1 banana
1 c water
blend and enjoy