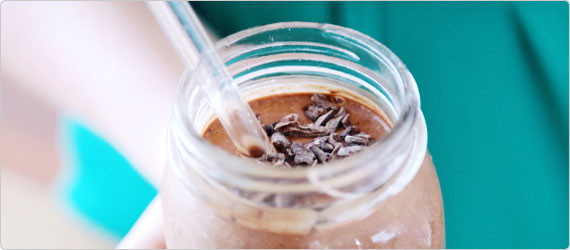 Father's Day is coming up and the kids will be making plans to surprise Dad on the big day. That's what it's all about – showing Dad how great he is and giving him a big thank you for being the best skateboard-mending, computer-teaching, story-reading dad he is.
So we've come up with this easy delicious smoothie for the kids to make for Dad on Father's Day. He can have it in bed, by the fire or on the deck (if it's sunny). It can be made by older kids, without any adult input, but someone big will have to help the littlies. Many of the ingredients will be in the pantry already, but if not we'll get them to you before the big day. The only thing to think ahead on is soaking the cashew nuts the day before and freeze a banana if your dad likes his smoothie chilled.
This Super Dad Smoothie will set Dad up for the whole day with its nutrient-rich ingredients and smooth taste. We've added in psyllium husks, maca powder, chia seeds and cashews for protein and stamina, banana for body and sweetness, and cacao powder for a rich, satisfying flavour. Every dad is different, so there are some extra options to customize this smoothie exactly to your dad's taste buds. And it's sprinkled with cacao nibs for a nutritious and festive topping. Make a double mix and there should be a taste for everyone.
Maca powder – nourishes all the body systems, energises and revitalises, and strengthens immunity
Psyllium husks – a great source of dietary fibre and helps maintain good bowel health
Cacao powder – rich in antioxidants and high in essential minerals
Chia seeds – high in protein and antioxidants, Omega oils and essential amino acids
Raw cashews – a high energy food, rich in healthy fats, essential minerals and many of the B complex group of vitamins
Cacao nibs – rich source of magnesium, antioxidants and feel-good nutrients
Super Dad Smoothie Recipe
Optional extras to add include: ½ cup frozen berries, 1 tsp honey for Sweet Super Dads, ½ tsp kelp or cinnamon for Spicy Super Dads, or a raw egg to provide a Protein Boost for your Super Dad.
Take a deep breath & gather up all your love for Dad before you get ready, it's the most important ingredient.
Put the banana, psyllium husks, chia seeds, cashews and half the water in the blender and whizz until well broken down.
Add the maca powder, cacao powder, the remaining water and other ingredients that your dad would enjoy and whizz again until smooth.
Pour into a big glass, top with cacao nibs and serve with a kiss – Happy Father's Day everyone!
BioBalance offer a range of premium Superfoods that make ideal additions to many recipes. Shop for them now from our secure online shop.
We'd Love Your Feedback
What's your favourite smoothie recipe?
If you're a dad, what's your ultimate Father's Day activity?