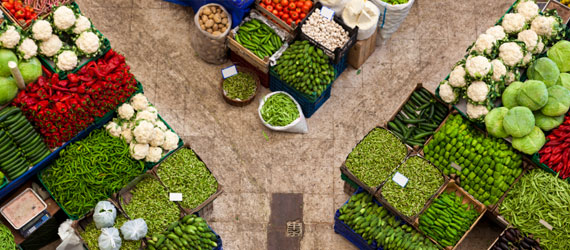 Do you eat enough fruits and vegetables?
Are you a lover of all foods green or are you among the 59% of New Zealanders who don't eat at least five serves of fruits and vegetables each day?
Research shows the majority of us don't pile our plates with fresh produce and, as a result, we're missing out on key nutrients, including valuable 'phytonutrients' – which only exist in plant foods and promote overall wellbeing, including normal energy levels, a healthy, balanced nervous system and a naturally responsive immune system.
The national health guidelines recommend five or more handful sized serves of fresh fruits and vegetables, each and every day. Each person measures their intake using their own hand as a guide so serving sizes are individual – an adult male needs more than a child, for example.
But if you're beginning to wonder how you'll manage five handfuls of carrots and peas, think outside the square – in addition to the usual suspects, there are now lots of unusual options to consider.
Exotic foods packed with phytonutrients include: green "super foods" such as wheatgrass and spirulina; plants renowned for their high antioxidant content such as white tea; and fungi from the East such as the "King of Mushrooms", Reishi mushroom.
These foods are called super foods for their high nutrient content and they are indeed full of phytonutrients and many other components for overall wellbeing – proteins, vitamins, minerals and enzymes. Here are some of the benefits:
Spirulina – A microalgae that contains vitamins, minerals including iron, protein, phytonutrients (phycocyanin and chlorophyll)
Wheatgrass – A sprouted food rich in phytonutrients including chlorophyll, vitamins, minerals, proteins and enzymes
White tea – A rich source of phytonutrients which have antioxidant properties. White tea is less processed and thought to have a higher proportion of polyphenols than other teas.
Reishi mushroom – A fungus renowned in China for thousands of years; a tonic that is high in phytonutrients and antioxidants.
Blackmores NutriMulti™ is a unique dual layer tablet that has been formulated to contain each of these super foods. The tablet has two layers, green and beige. The green layer is the super foods layer. The beige layer contains the vitamins and minerals you'd expect in a multi, including antioxidants and the Recommended Daily Intake (RDI) of B vitamins.
It's a multivitamin that offers more and, best of all, it's convenient. One a day is all you need for more complete nutrition.
Always read the label and use as directed. Supplementary to a balanced diet.
By Nicole Jellard
API Consumer Brands Naturopath
TAPS PP2022
We'd Love Your Feedback
Which superfoods have you benefited from including in your diet?
Does a multivitamin which also contains superfoods appeal to you?
Please give us your feedback below.