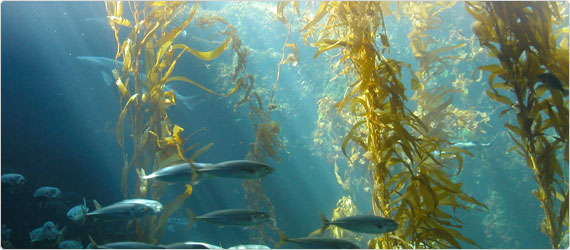 Kelp is the common name that applies to several species of seaweed including Fucus Vesiculosus (known as bladderwrack). It contains a yellow-brown pigmentation which causes the seaweed to look brown in colour and is the largest and longest of all sea plants (up to 1,500 feet long). Kelp is a rich source of vitamins, especially B vitamins and also contains many valuable minerals and trace elements including iodine. Kelp may be used as a natural iodine supplement.
Iodine is also found in soil, unfortunately in many parts of Australia and New Zealand there is evidence of iodine-deficient soils. This has led to foods becoming deficient in iodine and consequently iodine deficiency in humans has become an important health issue. Iodine is an essential trace element that is vital for proper functioning of the thyroid gland4 and is an essential component of thyroid hormones. Thyroid hormones are important for a number of physiological functions such as growth, development and metabolism as well as neurological development during pregnancy. Thyroid hormones are also important for energy production and oxygen consumption in cells and this is how they help to maintain the body's metabolic rate.
The human body only requires small quantities of iodine, and the thyroid contains around 80% of the body's iodine pool, which is approximately 15 mg in adults. 4 The Australian & New Zealand recommended daily intake (RDI) for iodine for children, adolescents and adults are:
| | | | |
| --- | --- | --- | --- |
| Age | Children & Adolescents RDI | Age | Adults RDI |
| 1-8 | 90 μg | 19-70 | 150 μg |
| 9-13 | 120 μg | >70 | 150 μg |
| 14-18 | 150 μg | | |
The benefits of Kelp are:
a natural source of iodine,
a rich source of vitamins, minerals and essential trace elements,
Supports healthy thyroid function and metabolism by providing a natural source of iodine,
considered by Nutritionists as a valuable vegetable from the ocean which provides a rich source of minerals to support well being.
Many Naturopaths and Herbalists use Kelp to support healthy thyroid function and metabolism. As iodine is an essential component of thyroid hormones and required for normal thyroid function it is important to ensure you are maintaining adequate iodine levels on a daily basis. Consider Kelp as a natural iodine supplement.
PP2603
By Rachael Aldridge, Naturopathic Department, Sanofi Consumer Healthcare
---
---
References
Bone, K 2003, A Clinical Guide to Blending Liquid Herbs, Churchill Livingstone, Elsevier, Missouri. p.103
Pitchford P, 2002, Healing with Whole Foods 3rd ed. North Atlantic Books, Berkley, California p.588
Balch, PA & Balch, JF 2000, Prescription for Nutritional Healing, 3rd edn, Avery, New York. p.73
Braun, L & Cohen, M 2010, Herb & Natural Supplements, An evidence- based guide, 3rd edn. Churchill Livingstone Elsevier, Australia. p.614
Ministry of health.Iodine. New Zealand. http://www.health.govt.nz/our-work/preventative-health-wellness/nutrition/iodine
National Health Medical Research Council, 2005, 'Iodine' The NHMRC Nutrient Values for NZ & Australia p.181
A range of quality Kelp supplements is available for secure order from our online shop. All NZ's leading brands are stocked, including Thompson's, Microgenics, Healtheries and BioBalance, and all of our prices are below NZ RRP.
Also check out our blog article on Edible Seaweed Nutrition and other interesting NZ articles about edible seaweed:
We'd Love Your Feedback
Have you tried kelp before?
What's your favourite way to eat seaweed?
What difference has a kelp powder supplement made to your pet's health?