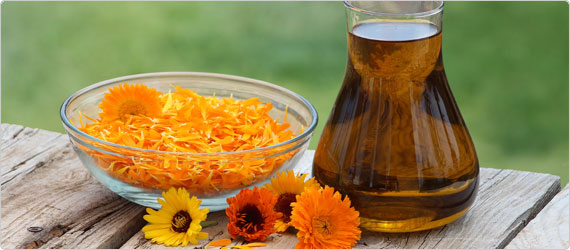 Calendula officianalis is a highly regarded medicinal flower with bright yellow, gold and orange blooms. Calendula is a native of the Mediterranean region and is full of flavonoids, which are antioxidants found naturally in vegetables and fruits that give plants their lovely bright colors. They protect the cells of the human body in much the same way as they do the plants, shielding them from free radicals and damage that can lead to disease and ageing. Oil infusions made from calendula flowers have been traditionally used for the treatment of skin ailments and to facilitate wound healing.
Calendula has anti-inflammatory properties, making it useful for stubborn wounds, skin inflammations, and varicose veins. It is effective in treating skin problems such as rashes, and in particular, grazed and cracked skin and is useful for use when treating abrasions, sunburn, superficial and limited burns, insect bites and eczema.
Calendula oil is well known for its beneficial use on babies. This nourishing oil can be used for massage, moisturising, or adding to bath water, leaving the baby's skin feeling soft and supple. It's suitable for daily care, and is an excellent product for cleansing and healing the nappy area. Because of its mildness, Calendula oil is beneficial for all people who have sensitive skin, not just babies! Calendula oil also makes a great base for lotions, salves, creams, several natural cosmetic products, and herbal ointments and is a very common base oil used in aromatherapy.
Calendula oil has also been used for treating venous complaints. In cases of venous inflammation, the ointment should be lightly applied, blending it with cypress and lemon essential oils. When applied consistently, this calendula oil combination decreases the symptoms of varicose veins and venous congestion by inhibiting inflammation, toning tissue and promoting enhanced blood supply to tissue.
Further benefits of calendula oil include:
It's an excellent remedy for soothing and moisturizing dry and chapped skin and lips.
Due to its anti-inflammatory properties, calendula oil can be used for skin sores and inflammation and to relieve the swelling and inflammation caused by bruises or muscle sprains. It can accelerate the healing of minor cuts or wounds, acne, burns, insect bites.
People suffering from dermatitis, psoriasis and eczema can also benefit from the topical application of calendula oil.
You can use calendula oil for scars, or for preventing or reducing the formation of scar tissue.
Calendula oil increase collagen levels, which helps to prevent the formation of scar tissue.
Calendula extracts have also been proven to help in treating hemorrhoids.
Calendula oil helps to soothe nipples that are sore from breastfeeding sessions.
Calendula oil is generally regarded as a very safe oil, but should not be used by people with allergies to the Asteraceae family of plants (eg. daisies).
Article by Renée Leonard-Stainton, Naturopath & Nutritionist
Renée Naturally – www.reneenaturally.com
HealthPost.co.nz stock top-quality Weleda Calendula Oil at a great low price in our online shop.